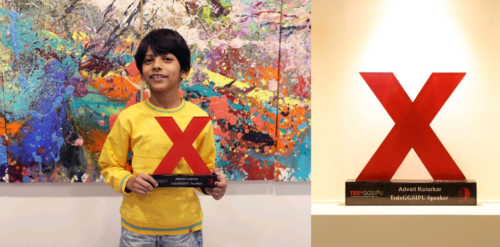 Advait Kolarkar, an art prodigy becomes the youngest Indian to deliver TEDx talk
India saw a prodigal, 8-year-old — Advait Kolarkar who is known for being the youngest professional painter in the world. Through his Ted talk in November 2022, he gives a message to his audience that "everyone can seize the superpower of creativity" and "you don't need to grow up to do something big".
Check out the video here for an inside look at Kolarkar's TEDx Talk
'Keep the child in you alive'. We hear this quote often but rarely from the mouth of an eight-year-old. This ted talk with Advait revolves all around creativity, passion and most importantly the relentless belief in oneself. Not only did he tell us how important it is to nurture creativity, he also sheds light on how parents can help a child grow into his interests rather than growing into a 'mould' of their choice. In the end, Advait being the youngest to perform at TedxGGSIPU in New Delhi won hearts by leaving hope, happiness, and a sense of ambition. He embodies the adage, "Age is just a number.
A prolific painter, and the winner of the Global Child Prodigy Award, Advait Kolarkar. At the age of eight, he made his mark around the world with the paints on his fingertips. Starting at eight-months-old with food colors on the floors, later his canvas has taken him far and beyond, much like his imagination that is so mesmerizingly portrayed in his art.
By taking the artworld by storm with a radiant show tour in USA, solo show in London and now exhibition alongside the most influential modern art masters Pablo Picasso, Henri Matisse, and Joan Miro in New York. A significant show in Italy and at the London Art Biennale, New York's ArtExpo, a solo stint in Canada and India. His story is featured in the launch of Walt Disney's largest digital destination 'Reimagine Tomorrow' and his artwork was painted by a robot on a car making a history.
There is more to come from this child prodigy in the months and years to come. Advait is currently in the United States for his exhibition tour and his work is on display in Jacksonville, Florida. In this tour he will be showcasing his work in many prominent art galleries across United States.
"I'll be a painter for my entire life. I also want to be a palaeontologist, an inventor and an author," he said.
If you want to know more about Advait and his work, please visit his website at www.advaitkolarkar.com. This young prodigy's art is a reminder that age is just a number and that with passion and belief in oneself, anyone can achieve greatness.