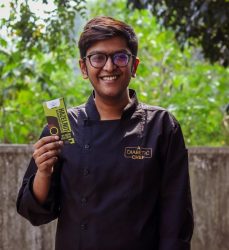 Children Day is special for everybody. It is a day to celebrate the child in all of us. Where everybody celebrates this day in their own style, Mumbai based, Diabetic Chef, Harsh Kedia has his own joyous way. Known to deal with products that are complete sugar free, Harsh distributed chocolates and had a gala time with children suffering from HIV and cancer patients.
Harsh spent some quality time with around 50 children, played some indoor games and clicked a few photos too. Proceeding, he went to a cancer care hospital and brought a smile on around 400 to 500 cancer survivals. Harsh is known to work towards sensitive causes and he is a human Santa too, who brings a smile on everybody's face.
Harsh describes, "It was a very emotional and heart filling activity. The amount of love these children and other elderly cancer patients have showered on me is irreplaceable. It's pure love! At the HIV centre I was surprised as all these kids were under 10 years. Inspite of facing such huge challenges at a young age, their smiles will inspire each one of us. Sugar aggregates cancer. So we decided to further spend our day with cancer patients. Knowing their stories was heart warming. We distributed chocolates at both the places and collected blessings and memories. My father accompanied me at both the events."
Harsh plans to conduct a similar event in Pune next week. We hats off this wonderful initiative that he has started.