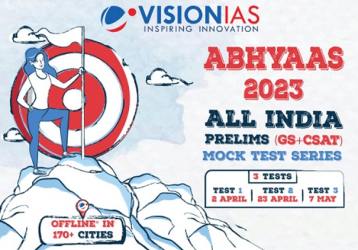 As the UPSC Prelims exam approaches, it is important to make the most of the time and resources you have to prepare effectively. With the exam scheduled to be held on 28th May, 2023, it's time to gear up and give your best shot.
The first step towards effective preparation is to understand the UPSC Prelims syllabus and demand of the examination.
It goes without saying that the final success in the UPSC CSE Prelims largely rests on time management and efficient resource utilization. Limited time on one hand, and plethora of resources on another create a conundrum for students. Therefore, the challenge which the majority of students face lies in efficient utilization of time and resources that would ensure their success in the Prelims examination.
The time is said to be the ultimate resource during the preparation and has to be allocated judiciously among different components of the exam. This includes preparation and revision of General Studies subjects, Current Affairs, and the CSAT, practicing  previous year exam questions (PYQs), and post-test analysis.
Recent trend analysis of UPSC papers affirms the continued importance of conventional subjects like Polity, Economy, Modern Indian History and Environment, etc. However, due importance should also be given to the non-conventional subjects like Ancient India, Art and Culture, Basic sciences, etc.
The rising significance of the CSAT paper in prelims needs to be taken into consideration and time and effort should be invested accordingly.
The Current Affairs can be overwhelming for most of the aspirants primarily due to the extensive range of topics. This requires a smart study plan which may involve time for daily revision, practice, and value addition.
Also, a well-planned schedule helps in reducing stress and anxiety associated with the exam. Intensive revision combined with time to rest and rejuvenate is as important as adherence to a set schedule.
Along with time management, effective resource management is a crucial aspect of prelims preparation. As the exam draws closer, doubts about the usefulness of available resources may arise, leading to the search for alternative sources of assistance. However, it's essential to avoid this situation and maintain confidence in the resources already utilized.
One should religiously stick to the previously referred standard text-books, self-made notes, current affairs resources etc. This not only saves precious time but also results in easier recall and knowledge reinforcement.
PYQs and Mock tests are a great way to evaluate your preparation and verify the efficacy of your resources. They familiarize one with the language and demand of the examination and lead the preparation in the right direction.
Students often failed to realize the importance of Post-test analysis, leading to missed opportunities for improvement and resultant value addition.
In this endeavor, Abhyaas Prelims-2023, to be conducted on 2nd April across 170 cities across India, is an excellent opportunity for aspirants. Abhyaas mock tests are designed to simulate the UPSC Prelims-like environment and cover the entire Prelims syllabus. By appearing in Abhyaas mock tests you can analyze and improve your preparation and set a winning tone for Prelims 2023.
Effective utilization of resources and time is the key to clearing the UPSC Prelims exam. You are bestowed with great abilities. Have faith in those abilities, follow the process laid above, and work hard to achieve your dream.
"The only limit to our realization of tomorrow will be our doubts of today. Let us move forward with strong and active faith, managing our time and resources in the best way possible."
                                                                                                               – Franklin D. Roosevelt
Visit us at: www.visionias.in/abhyaas
Or Call us at: 8468022022, 9019066066