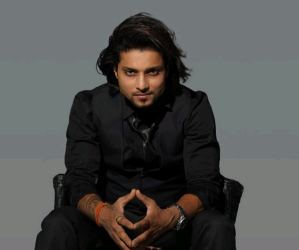 Prince charming TikTok famed Shri Krish (Aka Deepak/Krishna) launched his family business named "K10" on 12th March. He founded the company with his two co-founders Sapna Das (mother) & Anamika Das (younger sister).
Shri Krish who is a hardcore Cancerian was born in a running train as a pre-mature baby in the 7th month of his mom's pregnancy and just after his birth, he was the highlight of the newspapers across the country. He was raised by his single mother with many hardships. Since childhood, Shri Krish has been a kind & humble child.
His mother recollects fond memories of his childhood. He has had a sharing and caring nature since he was a toddler. He shared biscuits & chocolates with his neighborhood children and has been that very possessive elder brother to his sister Anamika.
He is an amazing dancer and actor. He was cheered by the audience at school when he first danced "Khai ke paan Banaras wala" taught by his mother. He loves his mom's cooking and enjoys her mutton dishes & yellow dal a lot.
To date, he taught dance to almost 50,000 learners. He has been the lead actor in four music videos "Ghungroo", "Zeher", "Kediya Valo Khelaiyo", "Adhuri Kahani" and "Saiyaan Mere" which will be released soon. He has also worked with musicians Tony Kakkar and Neha Kakkar in promotions of their music & also actor/producer Aayush Sharma in his promotions too.
Shri Krish has a huge fan following on Instagram and Tiki app along with YouTube which touched one million followers at 11:43 am on 5-4-2023. His dearest wish to direct his own web series, which he has scripted already.
He is the most eligible bachelor of India today with a charming personality, sharp brain, and a heart of gold and he has proved that with his adopted daughter adorable "Adah" who is four years old.
Coming back to K10, the company's vision is to create employment opportunities and support Indian startups in the long run. Its mission is to create creativity in every field of business and make products available to the audience (buyers) easily at their doorsteps & fingertips.
Follow Shri Krish on Instagram: https://www.instagram.com/shrikkrish/?igshid=YmMyMTA2M2Y%3D
Follow K10 on Instagram: https://www.instagram.com/__kten__/?igshid=YmMyMTA2M2Y%3D