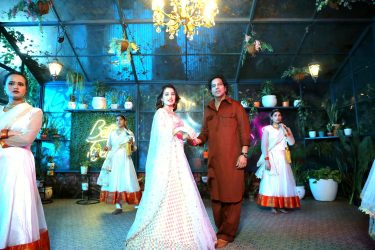 Hindi music album 'Apni Mohabbat' is being produced by the production house Filmgiants Pvt.Ltd. The song has become a topic of discussion in the film circles even before its release. This song has been written by Saurabh Tiwari (Joint Secretary, Central Secretariat), a prominent officer of the Government of India. This song is published in his famous book 'Anaayaas Hi'. The music of this song is given by Bollywood's well-known music director Raees and his son Sam has given his voice in this song.
The shooting of this song was recently completed at Studio Picture Destination, Delhi. Film actor Raajveer Sharma is playing the main hero in this song. Yukta Sharma of Delhi will be seen in the role of the lead actress with him. Yukta Sharma is going to debut in Bollywood with this song.
Significantly, Saurabh Tiwari himself is making his debut as an actor in the cinema world with this song. And with him Punjabi actress Priyanka Saraswat is playing an important role. Along with this, Saurav Ray (Joint Secretary), another officer of the Government of India has also got an opportunity to act in this song.
This music album is directed by Akshay Rahi and production head is Saurabh Tomar. The co-producers of this song are Haryana's famous social worker Vikas Nonach and Indore's businessman Shikhar Verma.
Actor Raajveer Sharma told that the recording of this song was done in Mumbai and it was to be shot first in Himachal Pradesh. But due to busy schedule of Saurabh Tiwari, this song was completed in a studio near Delhi itself. Raajveer also told that this song is very close to his heart as he himself has chosen this song from Saurabh Tiwari's book 'Anaayaas Hi'.
All the actors, singers, music directors as well as the entire team have put a lot of hard work in this. Yukta Sharma from Delhi and Priyanka from Chandigarh were shortlisted as per the requirement of the song and both of them have played their parts very beautifully which you will see in the song.
Lyricist Saurabh Tiwari told that for him this song is not just a song but a feeling beyond dreams. He said that while writing his book 'Anaayas Hi', he had not even thought that someday a Bollywood song would be made on any of these poems. Praising Raajveer, he said that all this has been possible because of Raajveer Sharma. Along with this, he also praised the entire team. He told that soon this song will be released in a grand level with big personalities of Bollywood and abroad will be involved in its release. Thanking Raajveer Sharma, he said that our duo is working on many more songs in the future as well and will inform you about them soon. The Filmgiants company is producing more than 50 music albums this year which itself is emerging as one of the biggest production company in Bollywood.