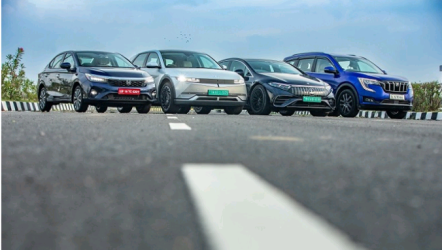 The Honda City, followed by the Hyundai Ioniq 5, returned consistent results in the AEB test.
Mahindra's XUV700 was the least predictable car in the AEB test.
The Mercedes-AMG EQS 53 stopped in the shortest distance.
New Delhi: ADAS or Advanced Driver Assistance Systems are the latest leap in automotive technology, and carmakers are now integrating it into their cars across segments. To find out which manufacturer had the best system, autoX did a test comparing the Honda City, Hyundai Ioniq 5, Mahindra XUV700 and the Mercedes-AMG EQS 53. It was the Honda City, the least expensive car among the four, which came out on top in the AEB or Auto Emergency Braking Test.
AEB is the most crucial feature of ADAS as it automatically applies the brakes when it detects that a crash is imminent. All the cars in our test managed to come to a stop on their own, but it was the Honda City that came to a stop the farthest from the obstacle in place. While the Mahindra system has been around for some time now compared to the others and is thus not as updated as the others, it was surprising that the Honda City managed to comprehensively beat the Hyundai IONIQ 5 and the Mercedes-AMG EQS 53.
The Honda City just didn't stop the farthest from the human obstacle, but it was also the most composed of all the cars in the test. It detected the obstacle early and applied the brakes in the most progressive fashion out of all the others. The Ioniq 5 came in second in this regard, and the XUV700 and EQS 53 braked at the last second. However, while the XUV700 was inconsistent in its returns, the EQS 53 braked at the same marker each time, but it managed to brake later because of its huge brakes.
To give you a better idea of where things stand, here's what autoX's Road Test Editor Shivank Bhatt wrote in his verdict, "I would like to remind you that these ADAS systems aren't built to a cost. A case in point is the City and its Honda Sensing tech. Even though it's the most affordable ADAS-equipped car in the country, its assistance systems aren't there for the heck of it. They work, and they work well. So, the next time someone like me tells you that ADAS is just a gimmick, don't believe a word of it."
To read more about the test and how all the cars fared in other ADAS tests that autoX conducted, read the full story on their website.