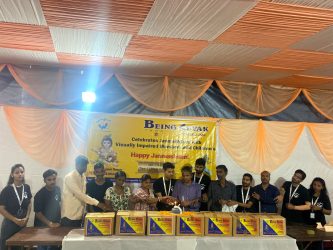 In a heartwarming and inclusive celebration of Janmashtami, Being Sevak Charitable Trust brought joy and spiritual harmony to visually impaired members of the community. The event, filled with Krishna bhajans performed by the visually impaired, exemplified the organization's commitment to making festivals accessible to all.
Janmashtami, a festival that commemorates the birth of Lord Krishna, is traditionally celebrated with great fervor and devotion. This year, Being Sevak Charitable Trust took a unique approach by ensuring that visually impaired individuals could partake in the festivities. The visually impaired members of the organization led the event with soul-stirring Krishna bhajans, creating an atmosphere of divine bliss.
One of the highlights of the event was the distribution of free foodgrain kits, sweets, and snacks to all visually impaired attendees. Being Sevak Charitable Trust, known for its philanthropic efforts, aimed to make this Janmashtami not only spiritually enriching but also physically nourishing for those in need. Volunteers from the organization worked tirelessly to arrange and distribute these essentials, ensuring that no member of the visually impaired community was left without support.
"Janmashtami is a celebration of love, devotion, and unity. We wanted to ensure that everyone, including the visually impaired, could experience the joy of this auspicious day," said Mrs. Shweta Shah, a dedicated member of the Sevak Charitable Trust. "The heartfelt Krishna bhajans and the distribution of essential supplies were our way of spreading happiness and inclusivity."
The visually impaired members of Being Sevak Charitable Trust expressed their gratitude for the thoughtful celebration, emphasizing that it made them feel like an integral part of the community. The event served as a reminder that festivals can transcend physical barriers and foster a sense of belonging and togetherness among all individuals.
Being Sevak Charitable Trust's Janmashtami celebration stands as a testament to the organization's commitment to inclusivity and humanitarian values. It showcases the transformative power of empathy and the ability of a community to come together to make a difference in the lives of those less fortunate.