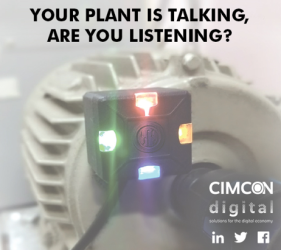 CIMCON Digital, a leading provider of innovative technology solutions has announced the launch of MachineAstro, a powerful new machine-learning platform that promises to transform how machine OEMs approach data analysis and decision-making while reaching their net zero goals.
CIMCON Digital, an AI-led technology company that helps energy-intensive industrial businesses achieve their sustainability goals by reducing energy and operation and maintenance (O&M) costs, has launched a cost-effective machine monitoring solution called MachineAstro. The product offers the same level of reliability as CIMCON Digital's flagship product, VIBit, without the need to stream data into the cloud.
MachineAstro is a sophisticated AI-powered solution that enables machine OEMs to unlock the full potential of their data. It is a bundle that includes multiple VIBit Lite sensors, an intelligent edge device called CIM10 with advanced software featuring edge AI and analytics capabilities, and a high-resolution HMI. VIBit Lite is a powerful vibration sensor that offers several features, including 3-Axis acceleration RMS, 3-Axis Velocity RMS, temperature monitoring, and 1-10x FFT.
Multiple VIBit Lites are wired to an intelligent edge device, the CIM10, which runs advanced AI-based anomaly detection and diagnostic algorithms to predict and report on various faults such as misalignment, imbalance, structural and rotating looseness, soft foot, and more. The HMI included in the bundle is fully configured to mimic an actual machine network and provide performance monitoring alerts. Alternatively, customers can also use their existing SCADA or other monitoring software to display this data and alerts.
CEO Anil Agrawal says, "the product is ideal for machine original equipment manufacturers (OEMs) looking to help their customers operate at high efficiency without unplanned downtime, reducing their carbon footprint and getting closer to their net-zero goal."
With its advanced machine learning algorithms, MachineAstro provides valuable insights and predictions that help machine OEMs optimize their operations, improve customer experiences, drive revenue growth. and leverage the power of machine learning without requiring extensive technical expertise. The product has already received positive feedback from initial pilot customers and is available for purchase worldwide.
CIMCON Digital leverages 35 years of deep domain industrial experience of its parent company, CIMCON Software (I) Pvt. Ltd., to deliver cutting-edge Industry 4.0 solutions that incorporate IoT, Artificial Intelligence, and Machine Learning technologies. CIMCON Digital products and solutions help a diverse range of customers across Manufacturing, Water, Oil & Gas, among others, meet their net-zero and sustainability goals. The company has a global presence, with offices in the United States and India, and its mission is to create "One Connected Industrial World," making it a leading player in the IoT industry.
For more information on CIMCON's digital transformation solutions, visit cimcondigital.com. For media inquiries, contact Aishwarya Agrawal at ashi@cimcondigital.com or call +91-09512800836.