Dr Adish Aggarwala, President of the Supreme Court Bar association being felicitated by Advocate Partho Sarkar, President Western Region, Insolvency and Corporate Professionals Association of India (ICPAI), Advocate Nilesh Ojha, National President, Indian Bar Association and other dignitaries.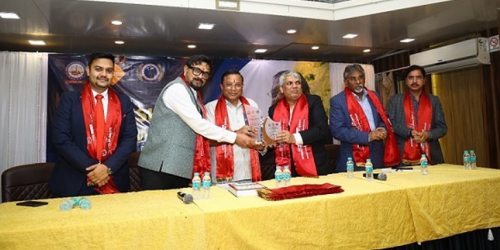 Dr. Adish Aggarwala (Sr. Advocate) was felicitated on 22nd July, 2023 at Mumbai on his being elected as the President of Supreme Court Bar Association by Indian Bar Association, Insolvency and Corporate Professionals Association of India and International Committee of Jurists for Human Rights Protection.  The program was attended by representatives of various Bar Associations, Governing Body members of Western India Regional Council of Chartered Accountants of India, including its chairman Sh. Arpit Kabra, faculties of various law schools including Government Law College, and prominent members of the civil society.
Adv. Partho Sarkar introduced Dr. Aggarwala, and described his outstanding academic and professional achievements, his holding of important positions in the Central Government and with various State Governments, and also various important positions in numerous Global Jurist Associations and bodies.
Dr. Adish Aggarwala (Sr. Advocate) took the participants through his struggles in life, rising from the position of a Clerk in an Advocate's Office to holding the Office of Advocate General and becoming an elected representative in various Bar Councils and also premier Bar Associations in India.
Dr Adish Aggarwala addresses the audience on the occasion of his felicitation in Mumbai on 22nd July, 2023
To underscore the strength of people's power towards pursuing judicial reforms, Dr. Aggarwala shared his recent experience when 6000 advocates and other commoners assembled in Delhi on 9th July 2023, when the heaviest rainfall was witnessed and life was almost brought to a standstill. Dr. Aggarwala also touched upon the power of spirituality in terms of the strength one can gain from reciting the Hanuman Chalisa.
Dr. Aggarwala highlighted the uncle-judge syndrome rampant in the Judiciary. He emphasised his crusade against  the practice of lawyers practicing in the same court wherein their relatives are Judges and it creating a situation where though an Advocate may not personally appear before his relative Judge, but the appearance is indirect either through his associate advocates and otherwise communication channels amongst peer judges are always open which can be put to misuse. Dr. Aggarwala shared his experience about the displeasure he earned from the judges and other authorities for exposing the practice of the apparent nexus amongst select Advocates and Judges. He also lamented the shaken public confidence in the Judiciary because of the misconduct by a couple of Advocates and Judges, and the need to address this.
Dr. Aggarwala stressed the need for urgent structural reforms in the Judiciary by way of structural reforms. If an erring High Court Judge is found inappropriate or is indulging in abuse of power, transfer to any other High Court is not the solution, since a Judge who is unfit for one High Court he would be unfit for any other High Court, and steps should be taken for his removal to send a clear message, that no one is above the law.
Dr. Aggarwala advised the legal fraternity that to survive in the legal profession, the way forward is digitisation and transformation to a paperless office, and lauded the present CJI, Dr. D.Y. Chandrachud for leaving no stone unturned so that by effective implementation of digitisation speedy and effective justice delivery reaches to the last mile in the remotest corners of the country. Dr. Aggarwala underlined the various kinds of training programs, organised by the Supreme Court in its march towards digitisation and emphasized the role of Dr. D.Y. Chandrachud in ensuring that justice delivery becomes smart and efficient.
Other panel speakers were Adv. Subhash Jha, Adv. Partho Sarkar, Adv. Nilesh Ojha and Adv. Ghanshyam Upadhyay who built on the momentum laid by Dr. Aggarwala, and concurred with his views that unless the Judiciary is reformed, the collapse of the fabric of an orderly society is imminent and that the Judiciary is for the benefit of the common public and not the other way round. Adv. Ghanshyam Upadhyay highlighted that advocates should behave themselves as independent officers of the court, rather than being meek and submissive, only to remain in the good books of Judges to secure favorable orders; and in the process, equity and justice is the casualty that can be ill-afforded by the society at large. He stressed that unless Advocates unite and raise their voices wherever there is bias, corruption or misconduct indulged by anyone, be it Judges or Advocates, without which judicial dispensation to the benefit of society cannot improve.
The program was compered by Adv. Saurabh Khanna and prominent advocates fighting for the cause of commoners. Adv. Nilesh Ojha, Adv. Partho Sarkar, Adv. Dipali Ojha, Adv. Nicky Pokar, Adv. Subhash Jha, Adv. Ghanshyam Upadhaya, Adv. Vijay Kurle, Adv. Tanvir Nizam, Adv. Rajesh Panchal and Adv. Ishwarlal Agrawal were also felicitated on this occasion by Dr. Adish Aggarwala.