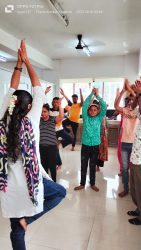 Delhi, 21st June 2023 – The World celebrated the 9th International Day of Yoga with the theme 'Vasudhaiva Kutumbakam', which reiterates One Earth. One Family. One Future. Sarthak Educational Trust, committed to empowering persons with disabilities, celebrated 9th International Yoga Day on June 21st with its #yogaSeHoga campaign across its centres. The campaign which also hosted an online webinar for the community aimed to promote the holistic well-being of persons with disabilities based on the topic, "Discover Self through Yoga – Integrate Body, Mind & Soul. Since its inception, Sarthak Educational Trust has been committed to improving the lives of people with disabilities through comprehensive support services and fostering inclusivity in the community. Sarthak has gone far and beyond to empower lives of the persons with disability since 2008 and it envisions touching the lives of 1,00,000 PwDs or Divyangjan by 2025.
Guest speaker Mentor and Guru Padma Bhushan Dr. M.B. Athreya, while giving an empowering talk to the persons with disabilities shared, " One can experience several physical and mental health benefits by practicing yoga regularly. Three factors that one needs to be mindful of a holistic healthy living are Diet, Exercise & Meditation". He recognized the importance of this day and encouraged inclusivity by ensuring that individuals with disabilities can also participate and reap the benefits of yoga.
Contrary to conventional perceptions, people with disabilities possess an incredible resilience and determination to overcome challenges. Yoga, with its holistic approach to physical and mental well-being, is perfectly suited for individuals with disabilities. Through adaptations and modifications, Sarthak ensures that every person with disability can actively engage in yoga practice, regardless of their disability. The experienced instructors at Sarthak's centres also guide PwD's in tailored yoga routines, considering their unique abilities and needs, promoting flexibility, strength, balance, and overall well-being.
Speaking about the initiative, Mr. Dr. Jitender Aggarwal, Founder and CEO of Sarthak Educational Trust, shared, "We are thrilled to celebrate International Yoga Day with our #yogaSeHoga campaign, specifically designed to cater to the unique needs of individuals with disabilities. We firmly believe in the transformative power of yoga and its ability to enhance physical, mental, and emotional well-being. Through these sessions, we hope to empower our trainees and enable them to embrace a healthier living". Sarthak's mission has been to break down barriers, promote independence, and create a more inclusive society by providing a wide range of services tailored to meet the unique needs of each individual. Sarthak has reached out to more than 2 million people with disabilities and successfully placed 55,000+ PwD candidates in various sectors through its free-of-cost services and programs across the country.
Advocacy Officer, Deepika Dhillon, Sarthak Educational Trust further added during the webinar "Yoga is a connection to self, through self & with self and one needs to imbibe it in your daily routine".
Sarthak Educational Trust has a presence at 24 centers across the country at (New Delhi (4), Chandigarh, Ludhiana, Lucknow, Ambala, Bhopal, Jaipur, Kolkata, Pune, Mumbai, Hyderabad, Ghaziabad, Gurugram, Vishakhapatnam, Chennai, Thane, Varanasi, Ahmedabad, Trivandrum) and are actively engaged in creating productive citizens of India through a life cycle approach – Early Intervention, Inclusive Education, Skill Development, Employment Generation, and Advocacy programs. For more detailed on free programs please visit (www.sarthakindia.org).