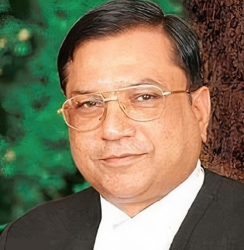 Addressing the press, Adv. Nilesh Ojha, National President Indian Bar Association and Adv. Partho Sarkar, President Western Region, Insolvency & Corporate Professionals Association of India, co-hosts of the event, gave an outline of Dr. Adish Aggarwala's achievements.
Dr. Adish C. Aggarwala (Gold medallist, Ph. D. in Law and designated Senior Advocate) is a dynamic high-profile lawyer, writer and social activist. He had the rare distinction of serving as Senior Additional Advocate General of Government of Haryana and Additional Advocate General of Governments of States of Uttar Pradesh, Tamil Nadu and Punjab and Special Counsel and Senior Central Government Counsel in the Supreme Court of India.
His current involvements include being the President of the Supreme Court Bar Association, President of the International Council of Jurists, London, President of the International Commission of Writers, Geneva, Chairman of the All India Bar Association, Convener of the Indian Council of Jurists, Chairman of the India Legal Information Institute, and Secretary General of the All India Senior Advocates Association. He has been an Executive Council Member and General Council Member of the National Law School of India University, Bangalore and the Governing Council Member of National Law University, Delhi and the Academic Council Member of the Chanakya National Law University, Patna.