MDPH Continues To Combat Counterfeiting by taking firm action to protect Copyrights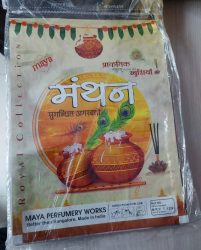 Ahmedabad/Deesa, 15th June 2023: Gujarat based Ranjan Agarbatti Udhyog, is facing legal consequences as an FIR (First Information Report) was filed against them for copyright infringement. The complaint, lodged by MP based Mysore Deep Perfumery House (MDPH), a prominent incense sticks manufacturer, retailer & exporter has accused Ranjan Agarbatti Udhyog of unauthorized use of copyrighted materials and violating their intellectual property rights.
As a frontrunner in the FMCG sector, Mysore Deep Perfumery House (MDPH) has invested substantial resources in research, development, and creative endeavors to bring unique and valuable products to the market. The company, renowned for its innovative product range and commitment to quality, has thus taken a strong stance against unauthorized usage and is prepared to enforce its copyrights through legal means.
On written compliant with legal documents of Mysore Deep Perfumery House (MDPH) and as per The Copyright Act, 1957, Deesa police raided the premises of Ranjan Agarbatti Udhyog, Malgadh, Deesa, Gujarat India, and registered FIR under Sections 51, 63 and 64 of Copyright Act, 1957. Copied boxes/goods of RANJAN and MANTHAN worth Rs.60,000/- were seized and the owner of the same, was arrested who had copied the art work of MANTHAN of MDPH on disputed labels of RANJAN and MANTHAN.
Mr. Rajendra Bhansali, Attorney and Advocate of MDPH shared "Ranjan Agarbatti Udhyog has illegally copied the art work & arrangement of MANTHAN label of MDPH and is creating confusion and deception in the minds of customers and damaging the reputation and goodwill of MDPH. According to The Copyright Act, 1957, if anyone found copying the art work, colour scheme, arrangement, irrespective of trade mark and has made substantial and material reproduction of art work of the original owner, the said illegal act is considered as a very serious offence and is non bailable.
Mr. Ankit Agrawal, Managing Partner, MDPH shared "MDPH is always very aggressive to protect their intellectual property rights and very prompt in taking legal actions. MDPH has taken thousands of legal actions against such persons/firms/companies in various parts of India and also in various foreign countries, who has copied and/or imitated mark/label/art work of MDPH. MDPH has proven its commitment to combat spurious goods and counterfeiting by taking necessary legal actions in the interest of consumers. By taking this proactive approach, we aim to set a precedent that will deter future infringements and foster an environment conducive to innovation and respect for intellectual property rights".
Disclaimer – This story has been picked up directly from a relevant source in unedited format. Newspatrolling does not verify or approve/disapprove of the credentials of the story.