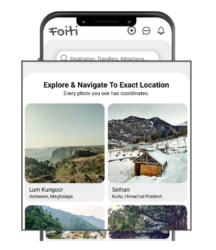 The world is constantly evolving, and technology continues to change the way we live our lives. One area where this is particularly evident is in travel. With the rise of smartphones and other photo-capturing devices, people can now document their adventures and share them with the world. However, it can still be difficult to pinpoint exactly where a photo was taken, even with the GPS capabilities of most devices. Fortunately, two entrepreneurs from India have come up with a solution to this problem.
Jwngdow Narzary and Arjun Narzary have created Foiti, a social travel app that is set to transform the way we explore the world. The app's most groundbreaking feature is its ability to detect the precise coordinates of photos uploaded by users. This makes it easy to not only visit the exact location where a photo was taken but also to discover new and exciting places that might not appear on traditional maps. With Foiti, users can explore hidden gems, far beyond the well-known tourist spots.
Foiti's "Explore" feature is particularly exciting. It enables users to browse through random photos and recommendations based on their interests. Users can search for specific destinations, regions, or even countries. They can also scroll through the map and see all the photos of a particular location. This feature opens up endless possibilities for travelers, providing a gateway to new and exciting destinations.
In addition to its groundbreaking features, Foiti also offers several other tools to enhance the travel experience. Users can meet with locals, find travel partners, see nearby attractions or those in a specific destination, follow other users, and create bucket lists. The app is continually evolving, and soon it will also allow users to ask questions to the community, write travel stories, create itineraries, and much more.
In conclusion, Foiti's poised to revolutionize the way we travel. Its ability to detect the coordinates of photos uploaded by users and its "Explore" feature makes it easy to discover new destinations and hidden gems. Additionally, the app's other features, such as meeting locals and finding travel partners, make it a comprehensive solution for travel enthusiasts. With Foiti, travel has never been more accessible, affordable, or exciting.
You can check out the app here: https://play.google.com/store/apps/details?id=com.foiti.android