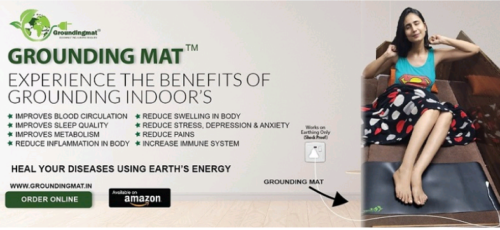 The team behind Grounding Mat™ has finally unveiled their first mobile grounding product, the Grounding Mat Kit, after years of research and development. The company has determined that slippers/shoes disconnect us from the Earth and this kit offers a solution by replicating the benefits of walking barefoot while providing added safety protection, comfort, and style. The Grounding Mat Kit, Made in India, allows users to stay naturally connected to the Earth energy while staying indoors.
"Experience Optimal Wellness Naturally with Grounding Mat: No lifestyle changes needed to improve your health"
Grounding Mat Therapy Kit is an Indian product, Stylish, Affordable, and Carbon Infused Conductive Material which makes every part of the mat conductive which can easily transport Earth's Natural Energy to Flow into Your Body and Replicate the Benefits of Walking Barefoot and Absorbing Free Electrons from the Earth's Natural Surfaces.
Recent studies have shown that grounding therapy can have pain-relieving properties and is considered by many health professionals worldwide as a natural, side-effect-free therapy.
Studies have revealed that people with chronic back pain have reported significant relief by sleeping Grounded. Regular use of the Grounding Mat may also improve sleep, reduce inflammation, and reduce anxiety, stress and Hypertension. Grounding Mat is also recommended by doctors.
As researchers and manufacturers of the Grounding Mat, we have found that it harnesses the natural biological pull and push energy force in blood cells, thereby improving blood circulation and oxygen level saturation. It is a 100% natural painkiller.
What is Grounding?
Grounding, also known as earthing, is an ancient practice based on the belief that disconnecting ourselves from the Earth's energy through non-conductive barriers hinders our ability to heal. Our bodies are naturally grounded, but modern-day habits insulate us from this connection. When the body is grounded, it readjusts, creating a physiological balance by absorbing millions of 'free electrons' from the Earth's surface.
Grounding is not a widely known practice, but if you've ever walked barefoot, you've experienced it without realizing it," said Taiseer Ali, co-founder of Grounding Mat™.
Recent studies have provided strong evidence that being grounded has a significant positive impact on the human body. However, until now, grounding has been limited to costly products with no style, affordable, and fully-conductive options available. Taiseer Ali and co-founder Zubair Ahmed spent the past two years researching grounding to make it an affordable and practical lifestyle choice for the mainstream market.
Every human being who is wearing shoes has some kind of mental and health issues such as diabetes, blood sugar imbalances, fatigue, low daytime energy or hormonal imbalances. These problems were not as prevalent 60 years ago because our ancestors were grounded by walking barefoot and sleeping on the ground. In the modern world, we have introduced tile floors, plastic mats, and multi-story buildings which have disconnected us from the Earth. Additionally, we humans have introduced modern Appliances and devices in our daily life which are generating harmful EMF which is affecting our bodies and damaging our healthy cells. EMF is like a slow poison. The loss of connection with the Earth's energy is a major reason for these health issues. Just as sunlight and air are important for our health, the energy from the Earth is also crucial for maintaining wellness.
Modern living has separated us from nature. At Grounding Mat, we aim to bridge that gap by showing consumers around the world the health, wellness, and lifestyle benefits of grounding.