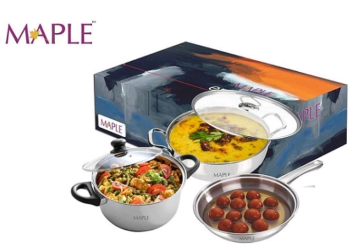 When people think about corporate gifting, the run-of-the-mill products come to mind. Laptop bags, T-shirts, Caps, Printed mugs, or Stationery sets. Some corporate gifting providers have chosen a less beaten track.
Based in Hyderabad, Group Welkin has been creating its own niche in this exciting space. The company has built itself the reputation for catering to discerning clients who choose to do something different for their business stakeholders, customers, or employees.
As Vijay Bhaskar, AVP Operations, puts it, "Kitchenware has a universal and timeless appeal. Every home needs reliable kitchenware, and there is something about this niche of products that touches the heart of each household. Typical corporate gift items have a limited shelf life in people's minds. The usual list of items seem to have lost their charm. Kitchenware, as we have seen from our growing list of clients, resonates with not just the person being gifted but with the entire family where the gift makes its home. Our clients have successfully embedded their brands, created goodwill, and occupied mindshare in the thousands of homes they have touched with our boutique kitchenware collection."
Group Welkin's kitchenware range for corporate gifting spans stainless steel, non-stick cookware, thermoware and lunchboxes, pressure cookers, electrical appliances, tawas and pans, and customizable gift set combos.
All cookware products combine a sturdy build with modern and elegant designs making them ideal for gifting the new generation of highly discerning and quality conscious households.
For instance, the stainless-steel range features products with gloss exteriors and satin finish interiors for a contemporary aesthetic. Cookware products are designed for gas, halogen and induction cooking, and are also dishwasher friendly. Bakelite firm grip non-heat handles and glass lids for maximum safety, lend these products an ergonomic design for practical convenience.
Group Welkin's kitchenware offerings give companies the chance to pick from a range of products with no seasonal limitations. Whether it's during festive seasons like Diwali or New Year, or at any other time of the year, kitchenware has year-round appeal and relevance making it an easy and memorable choice for corporate gifting.
All gifting sets can be customized and packaged according to the order specifications or order size. Corporate houses, Event planners, and Wedding coordinators can contact Group Welkin by email at crm@groupwelkin.com or WhatsApp at 9989887766 for more information and the product catalogue.
About Group Welkin:
For close to fifty years, Group Welkin has been adding value to clients across every conceivable industry. They have become a corporate gifting staple for hundreds of discerning organizations, who count on them as their one-stop solution provider.
Over the past fifteen years, its flagship brand, Maple, has touched the lives of over two million homes and families, with its boutique Kitchenware and Household appliances. For more information on Group Welkin and its range of Kitchenware corporate gifting products, please visit the company's website at https://www.groupwelkin.com.