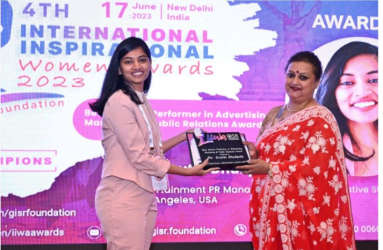 New Delhi – Hyderabad-born and Los Angeles-based publicist Sruthi Dhulipala recently received the "Best Woman Achiever in Public Relations, Marketing, and Advertising" Award at the International Inspirational Women Awards (IIWA) 2023, hosted by GISR Foundation. This recognition celebrates her contributions to the field of PR and marketing, where she has played a pivotal role in promoting the below-the-line talent and entertainment processes of numerous acclaimed titles, including Pinocchio, House of the Dragon, Nope, Top Gun: Maverick, Prey, Teenage Mutant Ninja Turtles: Mutant Mayhem, RRR, Bhediya, and many more. Dhulipala's career journey from India to Hollywood showcases her unwavering determination to establish herself in the Western entertainment industry.
Her pursuit of the American dream led her to Boston, where she obtained her Master's degree in Public Relations from Boston University. Starting as a Publicity Assistant at CBS Television Studios in Los Angeles, she swiftly climbed the ranks, transitioning from assisting in PR for shows to spearheading multi-faceted global campaigns for renowned studios such as MPC and Mikros Animation. Reflecting on her experience, Dhulipala shares, "Being an Indian publicist in the American entertainment industry feels like a lonely voyage but a proud one too." Despite the challenges and the lure of more tech-focused careers, she fearlessly pursued her goal of embedding into the Hollywood entertainment industry. The award was presented to Dhulipala by the esteemed Kathak dancer Alaknanda Das, an inspiration and an Art Motivator in her own right.
Dhulipala's remarkable career transition from India to the USA and her strategic work on blockbuster movies have placed her among a distinguished group of inspirational women from various fields, including art, entertainment, business, healthcare, and therapy. "I am immensely honored and grateful to be recognized by IIWA 2023," says Dhulipala. " This award represents my personal journey and serves as a testament to the power of determination and hard work. It is truly humbling to be acknowledged alongside such accomplished women.
I hope to continue breaking barriers and growing in the world of PR and entertainment and inspiring the next generation of women to build their own paths." IIWA 2023 stands as a testament to the extraordinary achievements of women leaders like Sruthi Dhulipala, who continue to inspire and pave the way for future generations of trailblazers. Their contributions and resilience propel us toward a more inclusive and empowered world.