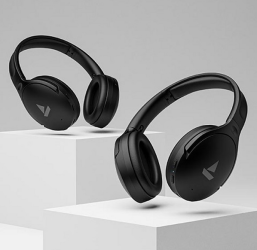 Are you tired of being distracted by the noise when trying to enjoy your favourite music or taking important calls? Do you wish for a device that can deliver uninterrupted audio and crystal-clear voice quality? Look no further than boAt Rockerz 551ANC, the latest addition to the lineup of premium audio products from boAt. This wireless headphone comes packed with features that make it the perfect companion for music lovers, gamers, and professionals alike. Let's dive into what sets this headphone apart from the competition.
Rockerz 551ANC — One Of boAt's Newest Noise Cancelling Headphones
Cancelling The Noise Out
The Rockerz 551ANC is one of boAt's newest Bluetooth headphones and boasts Hybrid Active Noise Cancellation (ANC) technology, which can reduce ambient sounds up to 35dB. Whether commuting on a busy street, working in a loud office, or flying on a plane, the ANC feature of these noise-canceling headphones can be activated to block out background noise and create a more immersive audio experience. This technology uses internal and external microphones to detect and cancel out unwanted frequencies, resulting in a more peaceful and enjoyable listening experience.
Sound That Outshines All
In terms of audio, this headphone features 40mm drivers that deliver powerful bass, clear highs, and balanced mids. There are two EQ modes to choose from: boAt Balanced Sound, which offers a neutral and accurate audio profile, and boAt Signature Sound, which enhances the bass and treble for a more dynamic and immersive soundstage. Whether into classical music, hip-hop, or podcasts, the audio can be customized and enjoyed for up to 100 hours on a single charge.
Disturbance Is Not An Option
Additionally, the newest Bluetooth headphones from boAt— Rockerz 551ANC— are equipped with ENx™ technology that filters out background noise and enhances voice during calls. Whether in a noisy cafe or walking on a windy street, the other party will hear a clear and natural voice, thanks to the technology. Plus, the headphone has a built-in microphone and buttons that allow answering calls, adjusting volume, and skipping tracks without taking out the phone.
Overall, boAt Rockerz 551ANC is a versatile and reliable audio accessory that can enhance daily routine in multiple ways. Whether tuning out distractions, enjoying music with optimal sound quality, or communicating effectively during calls, this Bluetooth headphone has every feature one would need. So, why not try it and see how it can elevate the audio experience?