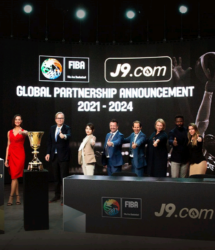 Betting behemoth J9.com is taking cricket to the next level in India with its fantasy cricket betting platform. The betting firm has since made an entry into the country. It promised to make the betting experience immersive and engaging and has continued to deliver on that promise.
It has emerged as one of the most popular online betting websites in india. J9.com allows Indian users to play games with cryptocurrencies, a measure that opens up the betting world to crypto-enthusiasts and allows them to set up betting accounts in bringing Fantasy Cricket to the Indian market. It is building on the already existing love of the game in the country to endear bettors to the beautiful game, similarly, the outfit offers an unmatchable immersive experience to its users.
The online sports betting company recently signed a multi-year sponsorship deal agreement with the International Basketball Federation (FIBA) to power mobile sports and fantasy betting across the globe. As part of the agreement between FIBA and Infront, J9 will receive strategic commercial rights across all FIBA competitions. The agreement and signing ceremony, held at the Headquarters of the International Basketball Federation in Geneva, Switzerland was brokered by FIBA Marketing.
During the signing, J9 Ambassador, former Argentine International, Gabriel Batistuta expressing his excitement on the deal, said "It is such a privilege to be signing this important partnership that will advance the cause of both organizations and will enable the J9 family to go global as the FIBA brand travels the world."
The FIBA trophy will tour the globe with the J9 Branding conspicuous, while the J9 team will be working together with FIBA to bring the charm of basketball to fans in cities across the world with a mix of forward-thinking and innovative strategies.
J9.com also allows punters to bet on the J9 fantasy cricket as well as other cricket formats like the 9 Wickets amidst other fantasy cricket formats. The betting outfit has now reached a benchmark in taking the game of fantasy cricket to the next level in the most populous nation in the world and is committed to making the experience a better one for its teeming customers in India.
About J9
J9.com is a principal betting company that has always been keen on going global. Committed to the tenets that betting should be fun and responsible, it provides a plethora of games and fantasy matchups to its users.  The bookmaking company is also cryptocurrency-friendly, being one of the very first to embrace the forward-thinking world of finance as embodied by cryptocurrencies. The company has over 5 million users and keeps growing every day, spreading to different parts of the world.