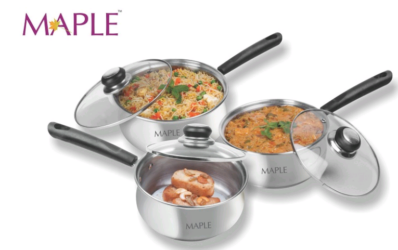 Maple Ideas, a leading domestic appliances brand, today announced the launch of its premium kitchenware and gift sets on its e-commerce store. The new collection features a wide range of high-quality, durable cookware products designed to make every day cooking easy and convenient.
"We are excited to launch our new range of products and bring our premium range directly to our customers," said Vijay Bhaskar, VP Operations at Maple Ideas. "At Maple Ideas, we are dedicated to providing premium quality offerings that match the ever growing demands of the modern customers."
Maple has, over the last 15 years, became a trusted brand of choice for over two million households. The collection features a diverse range of products including stainless steel cookware, non-stick cookware, thermoware, pressure cookers, electrical appliances, and gift sets. The products are produced using premium raw materials ensuring durability and longevity.
The latest addition to the brand's portfolio is expected to create a good demand in the market with its sleek designs and cutting-edge technology. The company's commitment to solid build, functionality, high quality, and elegant design is evident in every product it offers, making Maple Ideas a go-to destination for customers seeking the best in home and lifestyle products.
The new collection is available for purchase now on the Maple Ideas e-commerce store, https://mapleideas.com with free pan India shipping on all orders.
They are also an ideal gift for any occasion, be it a wedding, housewarming, or simply as a treat for someone special. Maple Ideas continues to provide customers with stylish, functional kitchen products that make their lives easier.