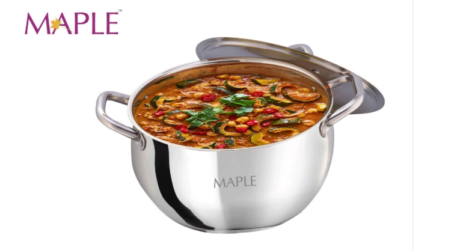 Maple's recently launched premium ecommerce store for kitchenware and gift sets (mapleideas.com) features their complete range of stainless steel products as a key product line.
The stainless steel kitchenware products combine the rugged build required for Indian cooking alongside contemporary design features and elegance that modern and well-informed households prefer.
Maple's stainless steel range, under the Buckingham series, is ideal for cooking and serving; an optimum balance of functionality and aesthetics. The products include steamer pots, deep sauce pans, fry pans, kadais, handis, multi-purpose pans, and cook-and-serve sets.
This enviable range of stainless steel is further complimented by Maple's other product ranges spanning non-stick cookware, thermoware, pressure cookers, electrical appliances, and gift sets.
The stainless steel products make for fascinating gift set combos to suit any occasion. Maple's stainless steel collection has, over the years, gained the reputation of being solidly built with thick gauge premium quality raw materials to ensure long life, high performance and durability.
They feature gloss exteriors and satin finish interiors for a contemporary aesthetic. All kitchenware products are suited for gas, halogen and induction cooking, while also being dishwasher friendly. They come with Bakelite firm grip non-heat handles and glass lids for maximum safety, and ergonomic design for practical convenience.
In the words of Vijay Bhaskar, AVP Operations, "Maple's stainless steel products under the Buckingham range are designed to respect the timeless traditional cooking methods while also catering to the rapidly morphing tastes and expectations of new age households."
Products are now available at https://mapleideas.com/ with free pan India shipping on all orders.