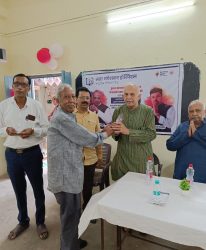 Nagpur 21st September 2023: Medyseva, a health tech startup with national presence with its chain of telemedicine centres has signed a strategic MOU with the prestigious N. K. P. Salve Institute Of Medical Sciences & Research Centre and Lata Mangeshkar Hospital in the city of Nagpur in Maharashtra to launch Lata Mangeshkar Hospital Adhunik Chikitsa Kendra powered by Medyseva . This collaboration will provide SaaS &Health Tech Outreach/Expertise alongwith End to End Solutions which will be provided by Medyseva. This MOU signifies a landmark moment in the healthcare industry, where the fusion of technology and medical expertise promises to revolutionize patient care. The centers were launched on the auspicious occasion of Bail Pola which acknowledges the importance of bulls and oxen, who are a crucial part of agriculture and farming activities. The centers will offer consultations on surgery, gynaecology, paediatrics, ophthalmology, ent, dermatology, orthopedics, psychiatry, respiratory
The health clinics or telemedicine centers called as "Lata Mangeshkar Hospital Adhunik Chikitsa Kendra powered by Medyseva". The aim is to come up with more than 100 centers across the Vidarbha Region. "Patients from far flung rural areas come to Nagpur from time to time for treatment of minor ailments. Lot of time and money is wasted in travel and stay. With this unique collaboration, we are bringing the doctors for consultation without the need for leaving the village or town for free. I urge you to take advantage of this opportunity," opined Mr. Ranjitbabu Deshmukh (Chairman, Lata Mangeshkar Hospital).
"Lata Mangeshkar Adhunik Chikitsa Kendra in association with Medyseva has been started for rural and needy patients who can avail its free benefits. We have started this center using modern technology through which the doctors from Lata Mangeshkar Hospital at Hingna Road and Sitabardi Nagpur through video will be able to communicate with the patients in rural areas. Immediate treatment can be started and if needed they can be advised to come to the hospital for further treatment," further added Dr. Ashishrao R. Deshmukh (Vice President, Lata Mangeshkar Hospital).
Kickstarting such a project with the Lata Mangeshkar Hospital in Nagpur is a first step in the rural outreach program in Maharashtra state by Medyseva. Medyseva and Lata Mangeshkar Hospital are excited about the opportunities this partnership will bring, with the ultimate goal of improving the health and well-being of individuals and communities.
"Lata Mangeshkar Hospital has started a new technique of Telemedicine which is getting treatment for a patient in rural or remote areas from doctors through an audio video system free at cost. Initially, the patients of Saoner and Narkhed will be able to benefit from this association due to the excellent initiative undertaken by Dr. Ashish Deshmukh. This is a great convenience, and providing medical care is a service to humanity." said Dr. Anirudh Devke, Project In-Charge at Lata Mangeshkar Hospital Adhunik Chikitsa Kendra, Nagpur.
Medyseva has emerged as a trailblazer in the field of telemedicine, offering a wide range of remote healthcare services, consultations, and solutions to patients across the country. By joining forces with Lata Mangeshkar Hospital, a reputed institution with a legacy of excellence in healthcare, both entities aim to leverage their strengths to enhance patient care. Soon they will be launching 100 more centers in places like Kalmeshwar, Wadi, Ramtek, Ajangaon, Buldana, Katol, Bhandara, Shegaon amongst others.
"Medyseva bridges the gap between the urban doctors and rural patients by providing state-of-the-art technology, which covers the entire spectrum of services. Through collaborations with institutes like N. K. P. Salve Institute Of Medical Sciences & Research Centre and Lata Mangeshkar Hospital, Medyseva will be able to strengthen the rural healthcare infrastructure in the country. We have aimed to target several other medical colleges and bigger hospitals in the upcoming time frame, " shared Dr Vishesh Kasliwal, Founder and CEO Medyseva.
For more information: https://www.medyseva.com