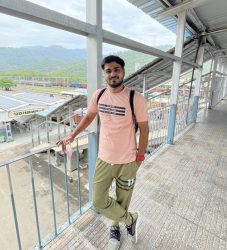 Vishwajeet Singh Monu comes from a middle-class family of Samastipur from Bihar. Vishwajeet Singh Monu popularly known as ' VS MONU Vlogs' , is a bihar-based train blogger and content creator who has gained a reputation for his informative and engaging videos about exploring the city. Since childhood, he was very much curious to try out new, unique things. Vishwajeet Singh Monu hails from a city, where the thinking of people is to educate kids and acquire any Government job. However, Vishwajeet Singh Monu is success didn't come easy, and his journey is a testament to the power of perseverance and creativity.Vishwajeet Singh Monu's faced many challenges, including financial difficulties that made it difficult to pursue his studies.
However, he never gave up on his dreams, and after completing his studies.Vishwajeet Singh Monu wants to change this middle-class thinking. This urges him to motivate and start his YouTube channel. He wants to show people society that if we persistently hard work in any of the work, then success is completely ours. With an 9.76 lakhs loyal subscriber base, 322 vlogs and 232 million views he occupies the top slot among the travel vloggers in the Country. Vishwajeet Singh Monu has 102K Instagram followers. His travel vlogs are extremely popular.
Vishwajeet Singh Monu loves to travel solo and we find his courage and dedication inspiring! Vishwajeet Singh Monu is all about solo travel and tries to explore as many new places as possible.