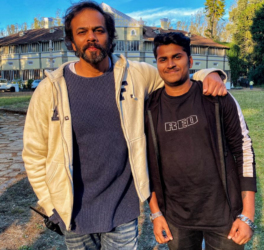 Mumbai City – City of Dreams. Yes, that city where traffic never halts and lifestyle changes with time. The city has given innumerable happiness and freedom to so many people that they will never stop to thank. Moreover, this city has also given wings to numerous dreams and saved them from getting shattered into pieces.
Many have struggled in this city, out of which a few fail to race against time and the rest have made the world realize their existence with their hard work and dedication. And among these passionate dreamers, there is one man who is known for his phenomenal talent in the Bollywood industry.
Presently, he is a well-renowned Aerial Cinematographer who started his career in the industry being a camera assistant and later, switched to drone pilot. Now he works alongside experienced directors like Rohit Shetty, Kabir Khan, and many more. We are talking about one and only 'Sushil H Mugullu', son of the oldest camera vendor of the country popularly known as "Babu Bollywood Equipments". He is popularly known for his magnificent artwork and the way he captures spectacular shots from his drones.
Also, he is a music Director/Producer and holds his own record label which is still under its making days. There is a lot that this young and talented gentleman has achieved over the years. Let's know more about his journey and experiences that will enlighten youngsters who aim to pursue their dreams.
Sushil H Mugullu started his career as an 'Aerial Cinematographer' back in 2017 with his first project in Kabir Khan's "TUBELIGHT". However, getting recognition from his first project has helped him in getting assigned for more films like ROBOT 2.0, MERSAL, RAAZI, MOM, SPYDER, TIGER ZINDA HAI, and many more on the list.
Recently his work was praised by the audience in Rohit Shetty's action-packed "SOORYAVANSHI" and when he was asked that how was his experience with the action director Rohit Shetty and his team, then he replied, "It's an honor for me to work alongside a big director like Rohit Shetty sir and his fabulous team. Although, his direction is enthralling, so it was challenging for me to deliver shots with perfection at the beginning. Later, under his supreme guidance and his team's support, I started getting a grip over everything."
"When I was younger my uncle used to tell me how focused, calm, dedicated, and humble he was during his working days. Working with him has also sharpened my skills and brought positive traits to me. He made me believe that there are no boundaries in life and humans can cross any obstruction if we are dedicated towards our job."
"The way he puts his mind and soul together for every shot and the way team pushes its limitations to make it possible has taught me that nothing is impossible in life and never lose hope because you haven't given your best yet."
"At Rohit Shetty's film sets, the aura is so alluring that it imparts positivity around the entire area. I, myself is a huge fan of his work, and working with him and his legendary team has made me feel like a part of him, I can't feel more blessed. There are no words that can describe one's experience working with Rohit sir and his team. He has used my talent as no one has till date."
"For making all of my drone shots iconic in the film, I have always discussed with him and even consulted his respectful team. Also, the entire crew has a humble nature that has always boosted me to go limitless. Although I was there for a short term, my shots are everywhere in the film and that defines my work itself. I am happy and grateful that I teamed up with a great director like Rohit sir and one of the best teams in the Bollywood industry. Hoping to work with him again."