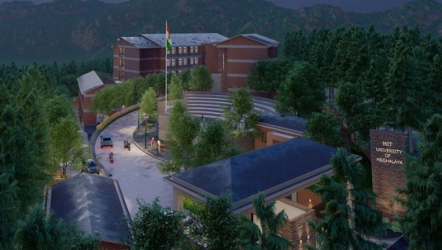 A Memorandum of understanding was signed between MIT University of Meghalaya – Shillong and Leeds Arts University (United Kingdom) on the 1st of April 2023. The MIT University, which is succeeding in its academic standards, has taken another step towards mounting its collaborative international projects to benefit the local students.
Dr. Malhar Pangrikar (Vice Chancellor), of MIT University-Meghalaya, and Professor Randall Whittaker, from Leeds Arts University signed the Memorandum of Understanding (MoU), with an intend for development of collaborative research projects, organization's joint academic activities, such as: courses, conferences, seminars, symposia or lectures, exchange of publications and other materials of common interest. According to the MOU, exchanges will also be made in research, teaching personnel, placement and exchange of students, in joint venture with MIT University-Meghalaya.
The prestigious Leeds University (UK) is in the leading edge, specialized in the higher education of arts. The Artist, Mr. Patrick Heron, in his writing, the Guardian, described Leeds College of Art as "…the most influential art school in Europe since the Bauhaus. Dr. Malhar Pangrikar affirmed that, the memorandum of Understanding will be effective from the date of the MOU signed and to continue for a length of three years. The main objective to initiate such alliance is to attain a global platform, towards building sustainable practices, an exchange of the local students and faculties for a worldwide experience and comprehension.
The MIT University – Shillong offers exciting New – Age programs with exponential growth, application – oriented learning from industry experts, complete placement and academic support from parent organization MIT Group Institutions- Pune. The professional program includes the undergraduate and post graduate level to cite a few, Bachelors of Design-Product design, Graphic Design, and Experience Design, BBA Marketing, Hospitality, Travel and Tourism, BBA, – LLB, B.Scs., – Nursing with specializations, BA B.Ed., MBA for working professionals etc. The programs at MIT are designed with an effort to build 'sustainability', and these associations help to bring the North East people on a global platform.
Presently the University is coming up with a new and permanent campus at Makasiang village – Mylliem block, East Khasi Hills with an endeavor to offer world-class amenities and infrastructure along with finest academicians to curate a well – rounded learning in the North Eastern Region.