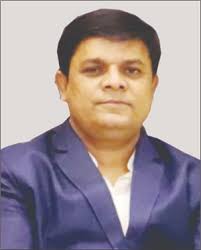 He is man with having great zeal and magical attitude. He started his career as corporate communications head in the year 2005 . But since having a thrust of doing something new he left the job in the year 2012 and started his own events & advertising company by the name of Magnat now it is Magnat productions pvt Ltd.
In the year 2013 he dreamed that there must be some good beauty pageants in the society which gives platform to the aspirant models & designers.
MR & MISS INDIA GLOBE as well as MRS INDIA GLOBE was the brain child of Sanjeev Kumar.
MR & MISS INDIA GLOBE (started in 2014) shall showcase the best of India's unmarried male & female where both have an opportunity to explore their talent and grab the opportunity to achieve their goal. At the same time it will bring out best of the best model of India and India born national in rest part of the world in terms of self-confidence, talent, commitment to public service and their drive for success
MR & MISS INDIA GLOBE is not only a model hunt but it also open an opportunity to our young talent to explore their career in their respective field such as in print shoot, electronic shoot followed by fashion, lifestyle and entertainment Industry.
Apart from this, MRS INDIA GLOBE ( started in 2015)
The pageant shall showcase the best of India's & abroad married women .At the same time it will bring out the best of the best women of India & abroad in terms of self-confidence, talents, commitment to public service, and their drive for success. The Mrs. India Globe winner will be a role model and inspiration to the Indian Women. The finalists will be able to tap the whole lots of opportunities in the Media, Film and TV Industry and Advertising world .The MRS. INDIA GLOBE consists of a young and vibrant team whose mission is to promote the development of an environment that optimizes the potential of the Contestants and to support them develop into responsible adulthood. as establish a global presence. The objectives of Mrs. India Globe through its, workshops, grooming and indulgence are dedicated to nurturing and encouraging new pageant talent amongst the married women, honouring the great winners providing success with a unique opportunity to engage in an appreciation of and a conversation about the art of being Successful Women, as it is represented around the world. This Pageant does not support nudity and vulgarity by contestants and is organized and designed to offer added virtues and values to everyone. The event will strive for the highest standards of integrity, morality and it has been always conducted in a fair and unbiased manner since last 6 years.
Sanjeev Kumar is an Indian entrepreneur as well as social worker .
He is a founder Chairman of MRS INDIA GLOBE and MR AND MISS INDIA GLOBE, Managing Director –Magnat Productions pvt Ltd as well as Chairman of THE RICH SOUL FOUNDATION (a Trust) and General secretary of Reflection Foundation ( An NGO).
By the dint of his hard labour and iron determination soon he is coming up with music albums and web series under the flagship of Magnat Productions & under the banner of other known productions houses too.