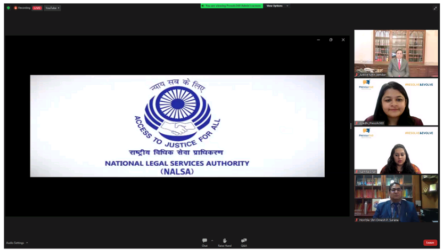 Mumbai, February 20:,Recently the Maharashtra State Legal Services Authority ('MSLSA') and the Main Mediation Centre ('MMC') of the Hon'ble Bombay High Court and Presolv 360, collaboratively conducted a virtual training on 'ODR through the lens of court-annexed online mediation'. The session was attended by around 2,000 judicial officers and 200 advocate mediators from across the State of Maharashtra.
The session saw the presence of Hon'ble Shri Justice Nitin Jamdar, Member, Main Mediation Monitoring Committee, Bombay High Court; Shri Dinesh P. Surana, Member Secretary, MSLSA, Mumbai, and Director/Co-ordinator, MMC, Bombay High Court; Shri Ajit A. Yadav, Deputy Registrar, MMC, Bombay High Court; and Ms. Namita Shah, co-founder, Presolv360, who conducted the training for the mediators.
Online Dispute Resolution ('ODR') has increasingly gained traction as an effective means to ensure access to justice for people from remote locations and diverse socio-economic backgrounds. On the eve of the United Nations World Day of Social Justice, the session aimed to demonstrate the benefits of ODR as a means of quick and effective dispute resolution, particularly in relation to court-annexed mediation.
Speaking during the event, Hon'ble Justice Jamdar said, "With technology being implemented in traditional justice delivery system, alternative dispute resolution cannot be behind. As you know, with the advent of Commercial Courts Act, pre-institution mediation is now mandatory. Online dispute resolution, therefore, is the need of the hour. There are some areas such as commercial disputes to start with, where ODR can be effective, where extreme emotions of the parties are not involved. There is one thing we have to be mindful that the transition from physical to online dispute resolution would require mindset and procedural changes. We must, therefore, prepare ourselves for this transition. The efforts such as the present one are, therefore, crucial. The nuances of online dispute resolution systems will have to be learnt by those who are participants in it. The programs such as the ones organized today will make us launch ourselves for the future with online dispute resolution. Therefore, I am very happy that the High Court Mediation Committee with Presolv360 has recognized this need and have organized this training program. I congratulate the office bearers of the Mediation Centre and Presolv360 for this initiative."
"Today, we are going to be a part of a thoughtful process which is aimed to learn how online mediation can be used as an effective mode of dispute resolution. The Main Mediation Monitoring Committee of the Hon'ble Bombay High Court has recognised the importance of online mediation and issued an SOP in this regard. Recently, the Chief Justice of India, Hon'ble Dr. Justice D.Y. Chandrachud also emphasized on the integration of technologies with the court proceedings as well as alternative dispute resolution mechanisms. It is our common experience in the process of pre-institution mediations for commercial disputes that many parties insist for virtual or online mode of mediation. On the backdrop of a growing trend of virtual mediation, there is a need to sensitize all the stakeholders in the State regarding the upcoming technology trends in law, its adoption, functioning and integration, and today's online training programme is therefore a right step in this direction." added Shri Surana.
Presolv360 has undertaken various initiatives to sensitize stakeholders from the Indian legal sector about ODR. Talking about the event, Ms. Shah said, "While technology in law and ODR are becoming mainstream, it is equally crucial to keep members of the judiciary abreast with the latest trends and technology in the dispute resolution domain. We are deeply thankful to His Lordship Hon'ble Shri Justice Nitin Jamdar and Shri Dinesh P. Surana for their support in organizing this session for the judicial officers of the State of Maharashtra."
Presolv360 has been empanelled as a Mediation Institution by the MMC, Bombay High Court, and the District Legal Services Authority, Mumbai, and achieved a resolution rate of 100% and 83% respectively in pre-institution mediation matters. The platform continues to work on projects with various stakeholders to achieve its vision of 'Digital Access to Justice for All'.