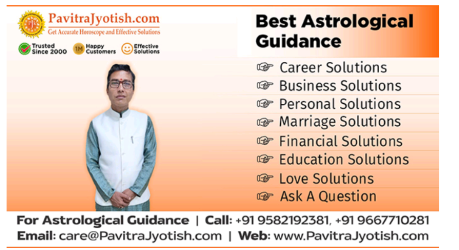 NEW DELHI, 6 April 2023: PavitraJyotish, an online platform for astrological solutions is considered the most competent and sought-after destination for the seekers of high-quality and affordable astrological solutions for their problems. Its founder, Pt Umesh Chandra Pant is hailed in high esteem among the masses for his profound knowledge, experience, and expertise in Vedic Astrology.
In January 2000, Pt Umesh Chandra founded PavitraJyotish with the mission to serve the people with astrological solutions through his experiential insights and specialties in astrology, such as horoscope analysis, family, financial problems, marriage, education, business, election predictions, celebrity astrology, relationships, personal growth, career, health and education prospects, horoscope matchmaking, remedial solutions, Vastu services, and counselling.
What Is The Purpose Of PavitraJyotish?
PavitraJyotish was founded to serve people with positive astrological counseling, advice, suggestions, and effective remedial measures concerning various aspects of people's lives, such as career, education, relationships, health, marriage, business, and so on. Regardless of what people desire to know pertaining to their future, the website PavitraJyotish hosts various featured services and solutions aiming to help people get the most appropriate solutions in astrology to live happily.
The website of PavitraJyotish is an honorable attempt of its founder Astrologer Umesh Chandra to help people get the most competent services in astrology at the most affordable prices. Moreover, the website lists astrological services in different categories, from reports to guidance, remedies, horoscope reading, remedial products intended to help people avail of these services quickly without having to pay huge amounts.
The website of PavitraJyotish is an idea born out of the core belief of serving people with trust and honesty, helping them find true purpose and meaning in their lives, ensuring they are led to the path of peace and prosperity using the guiding principles and suggestions provided through the website. The service of horoscope predictions, for instance, is one of the most popular categories of services.
It is prepared meticulously resonating with the guiding principles of Vedic astrology, thereby leaving no stone for erroneous predictions. Therefore, the purpose of PavitraJyotish is all about helping people experience peace and prosperity, as well as success in their chosen endeavors. If they don't have a purpose, the website has several resources in the form of blogs and articles to guide them to understand astrology and get benefited from the insights they offer.
How Does PavitraJyotish Help You Find The Best Solutions In Astrology?
PavitraJyotish, also called Best Astrologers in Delhi, India, is an online portal consisting of a comprehensive suite of astrological services and solutions. People looking for affordable and quality astrological solutions can trust the portal and find meaningful results wrapped around the intricacy of planetary cycles and celestial transitions. Moreover, the website is a one-stop destination for anything, ranging from the free birth chart and horoscope to premium services answering serious questions about people's predicaments and problems.
The portal is the most helpful destination for people of different zodiac signs with comprehensive information, in-depth planetary transit information, love compatibility, horoscope predictions, astrological predictions, and best suggestions in astrology. The website houses numerous sections with comprehensive information on various astrological subjects. From blogs and articles to guidance and astrological products, the website means a one-stop destination for people seeking quality astrological services and solutions. Therefore, the assistance provided by the website is unquestionably helpful for the seekers of services related to Vedic astrology.
What Is The Vision Of PavitraJyotish?
It should be noted that any website dedicated to astrological services has its underlying motive, and so does PavitraJyotish. It was founded with the main motive of offering the most authentic and quality astrological solutions that people seek in today's connected world. Therefore, the vision of the portal is all about serving people with the most competent astrological offerings, helping people solve their life's most painful problems and achieve greater success in their chosen endeavors.
For instance, if someone wants to set up a business but doesn't have clue as to how to get success in it just because whatever that person does returns no profitable output. In that case, the person can consult the chief astrologer and founder of PavitraJyotish for the most constructive astrological solutions to help him get success in his chosen venture. Hence, providing the most valuable, credible, authentic, and trusted astrological solutions to people is what concludes the vision and mission of the portal – PavitraJyotish.
Why is PavitraJyotish so famous in the country and abroad?
For the last 23 years, due to good astrological service in the country and abroad, PavitraJyotish website has got so much fame today. Thousands of people who believe in astrology have been very easily associated with them in the country and abroad for the last 23 years. PavitraJyotish always strives to provide the best service to every person and will be ready for astrological work with full devotion.
You can see about PavitraJyotish and its founder Astrologer Pt Umesh Chandra Pant, also known as Renowned Astrologer In Indiaon various news channels and media outlets such as – Hindustan Times, India Today, Zee News, Live Mint, Deccan Herald, Out Look, Mid-Day, The Tribune, The Print, PTI, Global News Wire, News Patrolling, and Yahoo News.
What Makes PavitraJyotish So Popular For People In Pursuit Of Quality Astrological Solutions?
The reason why PavitraJyotish is increasingly popular among people seeking the most competent and credible astrological solution rests in the fact that the website is festooned with all credible information, suggestions, recommendations, services, and solutions. For someone to be able to experience the perceptible solutions provided by astrology, the website comes equipped with helpful guidance and recommendations based on the horoscope study of the troubled person. It also houses blogs and articles, as well as products of great value aiming to help people understand astrology or find the solution o their quest without having to go elsewhere.
Conclusively, the website of PavitraJyotish is not merely an online portal with plenty of information dedicated to astrology. People trust it for its values represented through its founder's profound expertise and experience in Vedic astrology. It is believed a destination for all types of astrological services available at the most competitive price for everyone.
PavitraJyotish is registered as PavitraJyotishdotcom on the web world and provides seamless access to its plethora of astrology-dedicated information and solutions for people seeking the most dependable, authentic, and quality astrological solutions that Vedic Astrology recommends as authentic and viable. Please visit our Website and get more information.
You can also find detailed analysis and effective solutions to Astrologer Pt Umesh Chandra Pant astrological consultation by phone, email, video conference or face-to-face.
Contact us: +91 95821 92381, +91 96677 10281
Email us: care@PavitraJyotish.com
Follow Us on
Twitter:  https://twitter.com/PavitraJyotish
Facebook: https://www.facebook.com/PavitraJyotish.astrology.horoscope/
Instagram: https://www.instagram.com/pavitrajyotish/
YouTube: https://www.youtube.com/@PavitraJyotish
Linkedin: https://www.linkedin.com/company/pavitra-jyotish-kendra/
Pinterest:  https://www.pinterest.com/pavitrajyotish/