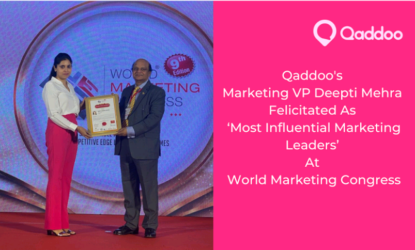 Deepti Mehra, VP Marketing with India's leading hyperlocal social commerce platform Qaddoo, received the felicitation of 'Most Influential Marketing Leaders' from the World Marketing Congress. The 9th edition of the WMC awards at Taj Lands End, Mumbai, was a two-day event from 22nd to 23rd November 2022.
Presently,  Vice President for Qaddoo, Deepti, has also been associated with big names like Radio City, Dainik Bhaskar, Hungama, and Micromax. She has the support of a dynamic team that is working day in and out to make online business a reality amongst the very marginal players who majorly reside in Tier 2 and Tier 3 markets. The event was to recognize, motivate, and confer the great work done by marketers for scaling a variety of brands and businesses. This time, the award theme was mainly "Sustainable Marketing for a Competitive Edge in Hyperactive Times."
Qaddoo a hyperlocal  eCommerce platform, is revolutionizing the lives of small vendors and retailers providing them the ability to create their presence and sell through the online ecosystem. The platform has become a boon for small local business owners from Tier 2 and Tier 3 cities, like vegetable hawkers, kirana stores, and more.
Launched just a year ago, Qaddoo already has a user base of more than 60,000 and 10000+ retailers from various parts of India. It is available in English, Hindi, and Marathi and will soon have all other Indian regional languages. Qaddoo has gained popularity and downloads in 50+ countries and over 300+ cities in India. Qaddoo is also a buyer platform with ONDC to ensure the ONDC seller visibility among their targeted customers. The platform is growing to empower local vendors and retailers with immense business expansion opportunities.
While the last year has been full of challenges, at Qaddoo, a very motivated team led by its founders, Anurag Gupta & Sumit Kapoor, has seen success in a very short period. While everyone wants to jump on the eCommerce bandwagon, Qaddoo is making a difference in the lives of very small retailers and entrepreneurs like home chefs who, till now, have been trying to find ways to scale their businesses. Qaddoo has given an identity and a strong foothold to such marginal players that are the backbone of India's economy. The company has been working with businesses to give them an edge in an ever-evolving customer preferences and business landscape.
"I feel this is a great honor to stand amongst the most influential marketing leaders and I feel grateful for a surefire motivation to keep working with maximum potential and sustainable strategies. What you see is just the tip of the iceberg, because a lot goes into planning the outcome a brand desires, and no achievement is complete without the support of your team" says Deepti, marketing VP at Qaddoo.
Connect with Deepti on her LinkedIn network.