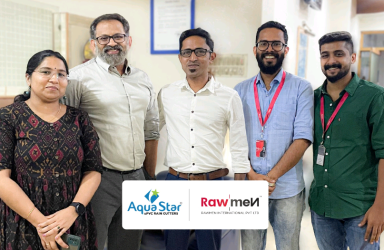 Team RawmeN Nikhil Scaria (CEO), Roky Varghese (COO), Aadam Illias (CCO) with AquaStar CEO Seejo Ponnore & Anasooya Sasidharan (Marketing InCharge)
Rawmen International Pvt Ltd, a full-service advertising agency, is proud to announce its latest partnership with Aquastar, leading rainwater gutter manufacturer. As part of the partnership, Rawmen has won the creative and marketing mandate for Aquastar, and will be responsible for developing and executing a comprehensive marketing and communications strategy to help the brand achieve its business goals.
Aquastar is a leader in the rainwater gutter industry, with a reputation for producing high-quality, durable, and sustainable products. The company is committed to helping customers manage rainwater effectively, while also reducing their environmental impact. With Rawmen's expertise in marketing, Aquastar aims to expand its reach and connect with customers who share its values.
"We are excited to be partnering with Rawmen to take our marketing efforts to the next level," said Seejo Ponnore, CEO of Aquastar. "Rawmen's track record of creating innovative and effective marketing campaigns, combined with their deep understanding of the digital landscape, makes them the ideal partner to help us achieve our goals."
Rawmen's team of marketing/ creative experts will work closely with Aquastar to develop a customized marketing strategy that aligns with the company's brand values and business objectives.
"We are honoured to have been chosen by Aquastar to lead their marketing efforts and to position the brand through innovative marketing strategies" said Nikhil Scaria CEO of Rawmen.
"We are excited to bring our creative and strategic skills to the table, and to help Aquastar grow and reach new audiences." said CCO Aadam Illias