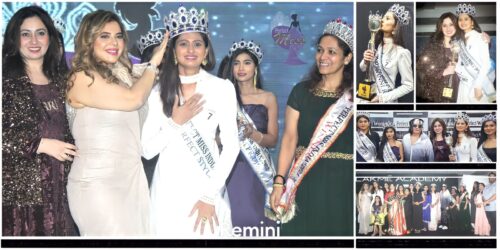 It takes the grit and determination of a woman to celebrate her imperfections to turn Perfect Woman. And that is exactly what editor Khooshi Gurubhai, the driving forces behind Perfect Woman, strived to achieve. Her Perfect Woman pageant and Perfect Achiever Awards are consistently empowering women for 13 years now.
Bright 'Perfect Miss Of India' 2022 season 9 organised by Perfect Woman Magazine powered by Bright Outdoor Media took place on 30th December, Mumbai where contestants from all walks of life participated to try their hands into the beauty and fashion world.
Celebrity chief judge Manisha Narang Rustomji crowned the title winner Reena Trivedi and actress Rakhee Rajadhyakshya awarded her with the winning trophy. "I owe this crown to my mom, this was her dream which turned into a blessing today", expressed Reena. Entrepreneur and beauty queen Aboli Talawne crowned 1st Runner Up – Jyoti Ghodkhe From Pune, Mountaineer Vijayapant Tulli and Ashleysha Yesugade of AAY India crowned 2nd Runner Up Muskan Saiyaad From Kasurdi, a small village in Bhor, Maharashtra and Bright Outdoor CMD Dr Yogesh Lakhani & Mr Irbaaz Ansari MD of THDLIVE crowned Perfect Woman Of the Year Soumya Jain From Mumbai, along with Khooshi Gurubhai, Gurubhai Thakkar and Geet Thakkar.
The talent beauty pageant had celebrity jury consisting of Mrs Harshala Tamboli, actress Charu Asopa Sen, Sweety Walia, Marathi actress Deepali Bhosale Sayed, Piya Valecha, Maryam Zakaria, Anjali Kapoor, Jasmine Babbar, Sandeep Chauhan to motivating the participants. Anusha Srinivasan Iyer, Founder of Naarad PR and Image Strategists played a major role to amplify the media presence.
Before the winning moment, the finalists were groomed by Official grooming partner AAY India – India's leading model training school with an admirable Show Director Monika Yadav, a Model & Actress from AAY India.
Wardrobe partner C'raj 's Fashion Den showcased all their wonderful collection with elegance and comfort, The finalists walked with the funky jewellery by Ayesha Shaikh, the Styling Partner. Host Rashmi Birhade kept the audiences entertained.
Averred Dr Khooshi Gurubhai & Gurubhai Thakkar, "For us, every contestant are winner's taking an invisible crown of confidence with them as now we are sure they stand tall to empower the Perfect Woman within."
In Perfect Woman Pageant there are no barriers of Colour, Height, Body shape, No Age restrictions; you can enter armed with just your confidence! "Bright' Perfect Miss Of India has changed the definition of a Beauty pageant by appreciating and recognising the inner beauty of individuals, in the finale we witnessed all the top selected finalists walking the stage with confidence accepting their imperfections which became the head turner," said Yogesh Lakhani, CMD Bright Outdoor.
Perfect Woman showed gratitude for their Gifting partners Sugar Cosmetics, Love Organically, Vedas Export, Quench, Sivas PR, Nasher Miles (Travel Bags), and Nutriglow.
2022 too the celebrations were grand, the finalist empowered,
In all Perfect Miss Of India recognises and encourages inner beauty
BIG HIT ENTERTAINMENT