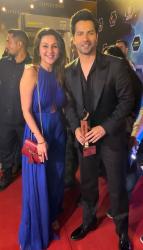 To have glowing skin and bouncy hair is like a dream come true.
It is an uphill battle to maintain healthy skin and hair with the lifestyle we are living in and the food we are consuming.
Skin and hair issues are mostly caused due to immune system problems, vitamin deficiency, restrictive or unhealthy diets, says Apurva Agarwal.
Apurva Agarwal is a well known name, she is an Influential Nutritionist from Nagpur, Maharashtra. Her objective is to personalize the diet plans and guide people in eating healthy and sustain for a long time.
Her impactful work has been acknowledged by being awarded as Best Nutritionist in Nagpur (IBA Awards) in December 2022. Moreover, she was invited as a celebrity nutritionist and content creator at Dada Saheb Phalke Awards held in Mumbai on 20th December 2023.
According to Apurva, it is important to detox so that the toxins do not store in your body that ultimately bring skin problems. The way to do it is by drinking lots of water and lemon water once in a while. This improves digestion and boosts metabolism.
Sugar intake should also be considered while dealing with skin problems, high sugar intake and processed food causes impurity in blood.
Yogurt is a blessing when it comes to dealing with body problems, it includes probiotics that help in the cleanse the digestive tract.
Apurva's recommendation on growing healthy hair is to consume iron based food. Green leafy vegetables are the best source of iron and carry oxygen and nutrients that improve hair follicles.
Vitamins are the most essential requirement for your body to be at best. Therefore, taking vitamin pills or fruits that inherit vitamins are good to consume. It improves blood circulation, oxidizes damaged hair follicles and improves hair growth and thickness.
Oranges, lemon, and grapefruits are the best example of Vitamin C.
She adds that including millets in your meal gives multiple benefits, it improves the elasticity of your skin and is rich in protein that prevents hair fall. Furthermore, it reduces scars and fine lines on your face.
Apurva's tips and guidance has helped more than 2500 clients to deal with various health problems and her ultimate goal is to expand her knowledge and expertise worldwide so that everyone has an access to live a healthy, vibrant life.