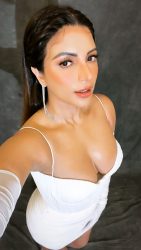 Besides ruling the big screen with her charismatic beauty and exemplary acting skills, Shama Sikander is known to win hearts on social media as well. She is one of the most active celebrities on Instagram, and with her each and every post she is known to draw in the netizens. One color that the actress loves to flaunt is white, and she does it amazingly indeed. From modern attires to traditional avatars, she owns a separate section of pure white outfits, and we love it.
Let's review some of our favorite white Couture that the actress has adorned in the past year.
1. White Bodycon Dress with gloves
This super fitted dress with a sweetheart neckline is just the epitome of grace. Giving the actress a royal look, this strapless beauty is a must-have for all those who aspire to be as fashionable as Shama.
2. White Pristine Anarkali
An anarkali is the most stylish and classic of all Indian outfits and one in white looks ethereal indeed. Pairing it with appropriate jewelry, Shama has tied the look off with the best makeup too.
3. Black and white dress
Recently, Shama Sikander posted a picture in a stunning black and white dress, radiating confidence and elegance. Keeping the focus on the dress, Shama Sikander opted for minimalistic accessories and styling.
4. White Jumpsuit
White is by far the most superior color and Shama has displayed the same in this white Jumpsuit. With a gold and white belt and white shoes, the attire looked classy as ever.
Her favorite color sure seems to be white as the actress looks just ethereal in it. Ranging from classy Indian dresses to smart western outfits, the actress wears the color of peace in an interesting and elegant way.