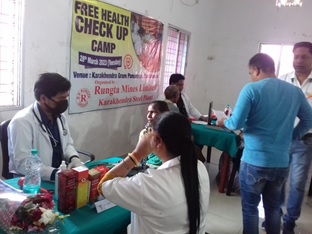 Being a frontrunners in Mining and Steel business Rungta Mines Ltd believe not just in making profit but also in creating positive impact on daily lives of communities.
Based in the states of Jharkhand and Odisha, the company is one of the fastest-growing integrated steel companies in India and remains aligned to its Company's firm belief in the philosophy of 'business with a purpose.' Rungta Mines Ltd is always committed to undertake its operations with concurrent focus on people, prosperity and planet. It takes a holistic approach towards development and the initiatives undertaken over the years have made significant impact on the livelihood of local communities.
Rungta Mines Ltd. ensure healthy life through host of initiatives like provision of ambulance, free treatment at dispensary, organizing regular health camps, supporting and facilitating Govt. run health programs, providing financial assistance to poor for medical treatment and checkups.
ORGANIZING HEALTH CAMPS AT VILLAGE
The company plays a great role in promoting education and sanitation for the communities. The company has constructed boundary wall, toilet block and bathrooms at Kalta High School which is the only high school in the tribal-dominated Kalta Gram panchayat in Sundargarh district of Odisha.
CONSTRUCTION OF BOUNDARY WALLS AND TOILET BLOCK AT KALTA HIGH SCHOOL, KALTA
.
Similarly, construction of two classrooms with verandah at Karakhendra Aganwadi Center is providing support around 45 children who come here regularly. This centre provides different services like supplementary nutrition, basic healthcare and pre-school etc.
KARAKHENDRA ANGANWADI CENTER IN KENDUJHAR, ODISHA
The construction of the staff quarter for Mahila College, Chaibasa has provided immense relief to the staff working here and meeting their accommodation needs.
STAFF QUARTER FOR MAHILA COLLEGE, CHAIBASA
In order to meet the need of people of peripheral villages, Rungta Mines Ltd. has taken keen initiative to conserve water by the way of renovating existing Water Harvesting Structures like check dams, ponds etc.
The renovation of pond at Kulla village is an example. This initiative has played a significant role in the daily life of the villagers of Kulla. Besides its regular use, this pond is also being used for a great source of alternative livelihood through pisciculture.
VILLAGE POND AT KULLA VILLAGE RENOVATED BY RUNGTA MINES LTD.
Community infrastructure development is a major initiative taken by the company over the past decades for improving quality of life of people of this region. The company has developed wellness park in Chaibasa, Community Halls in Barbil, Playgrounds and other community infrastructure like a modest bus stand in Sundergarh in Odisha, Student Accommodation in Bhadrasahi, providing a space for social gatherings and events. The initiative taken in the arena has helped to uplift underprivileged communities and created asset for the locality.
The construction of Kalyan Mandap at Karmanda village has become a great support for people who earlier could not afford to arrange space for social gatherings, functions, ceremonies, events and others. The company has constructed a Kalyan Mandap at the heart of the Kamanda village, which is now serving to the financially weaker section of the society.
KALYAN MANDAP AT KAMANDA VILLAGE
Sports plays a significant role for a healthy life of every human being and in this direction Rungta Mines Ltd always encourages local youths and sports talents. Rungta Mines Ltd. has been providing regular support for organizing sports events at regional, national and international level.
An elaborate blue print has been executed for promotion of sports through development of play ground with boundary wall around it, supply of sports material and other facilities to the communities & society at large.
BOUNDARY WALL AROUND THE FOOTBALL GROUND IN WARD 7, BARBIL
The business ethic of Company is not limited to earn profit. The Rungta Mines Ltd is committed towards wellbeing of the society. The Company has been working always with a mission to live by its people and for its people.