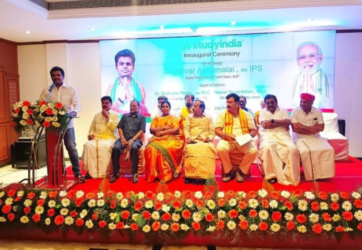 Inspired by the mission set by our Honourable Prime Minister Shri Narendra Modi, AGS Ilaya Bharathi, a young entrepreneur from Chennai and the son of State Vice President TNBJP Shri AG Sambath unveiled their new 'StudyIndia' (www.studyindia.com) initiative yesterday evening in an exclusive event at Hotel Radha Regent. The event was attended by over 500 people from the industry and academia, with the top brass of Tamil Nadu state BJP unit including BJP leader Shri H. Raja, Former MLC and BJP National Co-Incharge TNBJP Dr. Sudhakar Reddy, State Vice President TNBJP Shri AG Sambath, State Vice President TNBJP Shri Karu Nagarajan, BJP State Secretary Smt. Sumathi Venkatesan, State President Kisan Morcha Shri GK Nagaraj, Independent Director, EdCil, Government of India, Ministry of Education Shri Srikanth Karunesh, District President, South Chennai Shri Kalidass, Chennai Counselor Smt.Uma Anand, State President – Education wing TNBJP Shri Thanga Ganesan, State President Sports and Skill Development Cell TNBJP Shri Amar Prasad Reddy and others are the guests of honour.
The initiative will soon be officially launched by the TN BJP State President Shri K. Annamalai.
AGS Ilaya Bharathi, the founder and CEO of 'StudyIndia' introduced the initiative and spoke about the mission and vision for 'StudyIndia' such as:
To improve the soft power of India with a focus on using 'Higher Education' as a tool in India's international diplomacy.
To boost the image of India as a popular high-quality provider of International Higher Education.
To exponentially grow the number of international students studying in India from the current 50,000 to 500,000 in the next 3 to 4 years.
Increase in the contribution of international students in the form of direct spending, indirect spends, and spillover effects.
Reducing the 'Brain Drain' from India to countries such as the US, UK etc.,
Increase in the global ranking of India as an educational destination.
To reduce the export – Import imbalance in the number of International students.
Growth of India's global market share in International students.
The 'StudyIndia' initiative's primary objective is to target foreign students by branding India as an attractive education destination. 'StudyIndia' will target foreign students to be admitted as per the provisions of the new National Education Policy (NEP 2020), brought into law under the able administration of Honourable Prime Minister Narendra Modi.
While addressing the occasion, Shri. Sudhakar Reddy said that "The search for knowledge has always been fundamental to India's culture and civilization. Throughout our history, India has made incredible contributions to the development of human knowledge and philosophy. Our ancient philosophical concepts, such as Vasudeva Kutumbakam also teach us the same.
Through the new National Education Policy (NEP), our Prime Minister Narendra Modi wants to create a forward-looking and futuristic education system in India."
"StudyIndia is an innovative initiative to increase the number of foreign students to come and experience the very best of academic learning from the top institutions in India. This will be achieved through systematic brand-building using our 20 international offices across 12 countries, signing MOUs and student exchange partnerships with institutions abroad." said the founder and CEO Ilaya Bharathi
In a special message on this occasion, Honourable Governor of Jharkhand Shri CP Radhakrishnan said the 'StudyIndia' initiative will open the gates of prominent educational institutions of India for foreign students. Now, India is again surging ahead in the education sector with more than 40,000 colleges & more than 1000 universities.
Shri H. Raja said that "India was the education hub of the world with the long heritage of Nalanda & Takshashila. Because of the recent reforms in the education sector by the Honourable Prime Minister Narendra Modi government, now India has become a prominent centre for affordable and high-quality education."
Earlier, while delivering the welcome speech, Shri. Karu Nagarajan, Tamil Nadu BJP State Vice President said that India is a place of wisdom and believes in knowledge without borders.
The 'StudyIndia' initiative would provide a one-stop solution through their website www.studyindia.com. The website will be supported by a 24/7 Helpline number. The website will not only provide information on the latest offerings on Indian education but also facilitate admissions to foreign students and help them make informed choices based on individual aptitudes and career goals.