A cross-section of health & wellness brands demonstrate why organisational culture matters, which defines them as a Most Preferred Workplace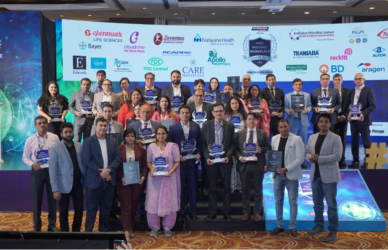 Stress and retention are two words that come to mind when it comes to healthcare professionals. This is not surprising, given that this fatigue (both physical and mental) has come to prominence. Even though it is an unavoidable fact of life in many industries and organisations, it is especially noticeable in the health & wellness industry. A strong organisational culture is one of the best ways to combat this.
Building a Resilient Workforce
With employees seeking greater meaning and purpose in the workplace, organisations are revisiting their strategies for talent retention and management, especially in the wake of increased attrition. A few health & wellness brands have managed to reshuffle their processes, structures, and thinking when it comes to these diverse factors, in the process cementing their position as a Most Preferred Workplace 2022-23. Taking a research-based approach, Team Marksmen assessed organisations across multiple parameters, before arriving at the shortlist of brands accorded this accolade.
Those recognised for having a Most Preferred Workplace included:
Agappe Diagnostics Limited
Alkem Laboratories Limited
Apollo Hospitals, Ahmedabad
ARAGEN LIFE SCIENCES PRIVATE LIMITED
Bayer Consumer Health
Becton Dickinson India Private Limited
CARE Hospitals (Quality CARE India Limited)
Edwards Lifesciences (India) Private Limited
FDC Ltd
Flamingo Pharmaceuticals Ltd
GenWorks Health
HEXAGON NUTRITION
Kids Clinic India Ltd (Cloudnine Group of Hospitals)
Kokilaben Dhirubhai Ambani Hospital, Mumbai
Manipal Health Enterprises
Meril Life Sciences Pvt. Ltd.
MGM Healthcare
Narayana Health
P. D. Hinduja Hospital & Medical Research Center
Takeda Biopharmaceuticals India Private Limited
TRANSASIA BIO-MEDICALS LTD
Wellness Forever Medicare Ltd
Zuventus Healthcare
This one-of-a-kind event brought together industry experts to brainstorm solutions to hot-button challenges facing the industry today. Through these deliberations, an exclusive audience uncovered new ways to achieve a good work-life balance, and how to set good examples and drive productivity in addition to much more. For organisations to learn how to improve cultural competence and create new paradigms of care, a roster of stalwart speakers from across the industry shared their views, such as Anoop Kamat, Head HR, Takeda Pharmaceuticals; Jagdeep Chauhan, Director Human Resources; PD Hinduja Hospital & Medical Research Centre; Minhye Seo, Head Human Resources – South Asia, BD; Rajorshi Ganguli, President and Global HR Head, Alkem Laboratories; and Mandar Dani, Associate Director, KPMG India.
Speaking at the event, Sharad Gupta, Co-Founder and COO, Team Marksmen Network, offered his thoughts, saying, "Taking care of employees is a modern-day organisational imperative, and cannot be ignored. Just as health & wellness companies focus on consumer care, it is equally essential that the same continuum of care exist for its workforce as well. Employees seek out employers with a differentiated value proposition such as this, and the brands represented as a Most Preferred Workplace stand for this perfectly. We salute their can-do spirit."
For many, comprehensive care is of utmost importance, and few embody this more than those that form the heart and soul of this unique recognition. After all, prevention is better than cure, and who knows that better than the health & wellness practitioners at the forefront of this new wave of change.
About Team Marksmen:
Team Marksmen's mission is to bring knowledge communities to life and help business leaders from all sectors navigate the contours of a changing world order. This is accomplished by utilising a variety of bespoke industry-centric knowledge platforms, such as Roundtables, Summits & Conferences, Workshops, and Recognition Ceremonies.
We collaborate with leading thinkers from various industries on the most pressing issues confronting organisations, governments, and society, and we share our findings through thought-provoking content on our daily news and insights website, marksmendaily.com, and our quarterly business and lifestyle magazine, in Focus.
To learn more, write to us today: contact@teammarksmen.com