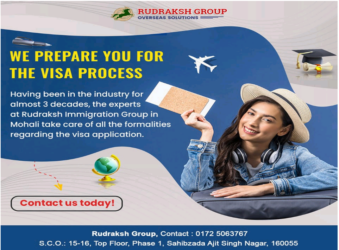 UK has traditionally been a popular destination for Indian to migrate. People have been travelling there in search of reputed higher education institutions, great employment opportunities, or setting up lucrative businesses. Great cultural mix, English language and a tradition of Indians living there are some of the most favourable reasons why people choose it over any other nation. Recently, the government has been introducing innovative migration programs to attract skilled workforce from various countries. India is among the chief contributors the UK to fulfil that demand. In this post, we shall discuss the salient features and requirements for the UK Self Sponsorship Visa as elucidated by Rudraksh Immigration Group Mohali.
Features of the UK Self Sponsorship Visa
This visa is best suited for entrepreneurs, investors or people who want to purchase existing businesses in the UK. The main attraction of this program is the fact that it is considered under the "Skilled Worker Visa" category. Therefore, after having 5 years of this visa, one is eligible for PR and after 6 years, one can even apply for the citizenship. The business that one starts could be anything but must be legal as per the UK law. In addition to that,there is no minimum or maximum investment needed for this. Finally, you could own 100% shares of your company.
How to Sponsor Yourself?
The process is fairly straightforward when it comes to how to sponsor yourself. You need to establish/buy a business or company in the UK. After that, you will get the sponsorship license within 6-8 weeks that will allow you to hire foreign skilled workers. The trick is that you will employ yourself as the Foreign Skilled Worker and will need to assign an appropriate designation. In addition to that, you will need to pay yourself a minimum salary of £25,600 per annum or £10.10 per hour (whichever is higher). In this way, you are employed as a Skilled Worker in your own company.
Documents Needed
1 month business bank statement.
Lease/Freehold/Tenancy agreement.
Employer insurance certificate (minimum employer cover of £5 million).
Payee/Account Office reference letter from HMRC (UK Revenue & Customs).
Regulatory Approvals (Health & Safety star rating, ACCA, SRA, etc.).
VAT Certificate (for registered organisations).
Signed Annual accounts (for businesses over 18 months).
B1 level English proficiency certificate as per Common European Framework of Reference (CEFR).
With this, you will have your own company in the UK and will also be employed at your own company will a salary. Hence, this will be your self-sponsored agreement. At the end of 5 years of this engagement, you will become eligible to apply for the UK PR and at the end of 6 years, you can even apply for the UK Citizenship. That is how you can get the UK PR without a job offer, a UK sponsor or minimum investment.
Rudraksh Immigration Group has been a prominent player in the world of overseas migration. They have processed thousands of visas for students, PR, migration and tourist. If you have any doubts regarding the Self Sponsorship Visa for the UK or any other program for any other country, make sure to visit the office of Rudraksh Immigration Group in Mohali. The experienced staff there will guide you as per your case and needs.