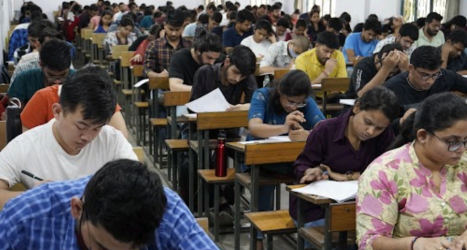 The Civil Services Preliminary Examination, is one of the most prestigious and competitive exams in India. This year, the Prelims exam is scheduled for 28th May 2023, and aspirants across the country are getting ready to take the first step towards realizing their dream of joining the Indian Civil Services and serving the nation.
Preparing for the UPSC Prelims can be an enormous task, especially in the last few weeks leading up to the exam. Some of the most significant challenges that students face are time management, revising the vast syllabus and memory retention while appearing in Mock Tests.
These challenges are compounded by the added pressure to perform well in this exam, lack of confidence in one's abilities and preparedness, the uncertainties accompanying the final outcome and the fear of failure.
Practicing Mock Tests and continuous improvements thereof have proven to be highly effective in addressing the above challenges. Tests not only result in targeted revision, better retention and recall, time management across and within subjects but also build the confidence of students to perform well in the final examination.
Abhyaas Test 3 scheduled to be held on 7th May, 2023 provides an excellent avenue for students to not only assess their preparation level before the UPSC Prelims Examination but also provides them a way forward for the remaining three weeks before the UPSC Prelims.
The earlier two tests in the Series were held on 2nd and 23rd April respectively. Students were able to assess their preparedness in different domains such as General Studies, Current Affairs and CSAT. With the help of post-test analysis, students were able to identify the learning gaps and areas that needed focused attention.
At the same time, these tests also provided students with an opportunity to validate revision techniques, test taking approaches, and different strategies for boosting the performance. The All India Ranking of students released with test results is reflective of their attainment and acts as a motivating factor for further consolidation.
Abhyaas tests are designed to simulate the civil services prelims examination conducted by UPSC. By appearing in these tests, students develop a better understanding of the demand of the examination, their natural responses when under pressure. The combined effect of these experiences enhances physical and mental preparedness for the upcoming Prelims examination.
The Abhyaas Test 3 would be the final opportunity for students to assess their knowledge, skills, score maximization strategies, and enhance their psychological readiness. The outcomes and experiences from this test would determine the learning path for the remaining time before the prelims examination.
Consequently, the areas of strengths need to be further consolidated by adopting quick revision techniques with the help of short notes, practice questions and its explanations, and post-test analysis.
Core subjects like Modern Indian History, Economy, Polity, Environment, Geography and Current Affairs should find a central place in the learning plan to be followed now.
Regular practice of questions, revision of key concepts in different subjects and integration of Map work in Geography, fundamentals of Environment, and applications of concepts in Economy must be undertaken to improve the command over the content and reduce the likelihood of missing out on questions from these topics.
Other subjects such as Art and Culture, Science and Technology should be given due attention and solving questions on these subjects can deliver better results and outcomes.
In recent years, CSAT has become a make-or-break paper for many students. Various instances have been observed wherein despite scoring well above the cut off marks in the GS Paper-1, students were not able to qualify for the Mains stage as they failed to score the minimum qualifying marks in CSAT Paper.
A strategy designed to score the minimum qualifying marks in CSAT carries the risk of falling through if the nature of questions is not on expected lines which is a possibility as UPSC is known to challenge the students with surprising elements.
Abhyaas Test is an innovative assessment solution by VisionIAS which aims to equip students with necessary knowledge, skills, and competencies to effectively face these challenges and surprises posed by UPSC and ensure their success in the Prelims examination.
With a continued thrust on research and innovation, VisionIAS has established itself as a pioneer research and training organization for UPSC Civil Services Examinations. Over the years, it has helped thousands of aspirants in realizing their dream of joining civil services.
Its innovative assessment system, a comprehensive classroom ecosystem, dedicated student mentoring platform, and adherence to organizational ethos and value system, have played a significant role in achieving this outcome.
As the UPSC Prelims 2023 draws closer, it's natural to feel overawed by the occasion. However, it's crucial to remember that success is not just about the outcome but also the journey. Every day of your preparation, every mock test you take, and every mistake you make is an opportunity to learn and grow. Remember, there's no substitute for hard work and dedication, and with the right mindset, you can achieve anything you set your mind to. So, stay motivated, stay positive, and give it your best shot. We wish all the UPSC aspirants the very best for the upcoming exam!
"It is not the mountain we conquer, but ourselves." – Sir Edmund Hillary
Visit us at: www.visionias.in/abhyaas
Or Call us at: 8468022022, 9019066066