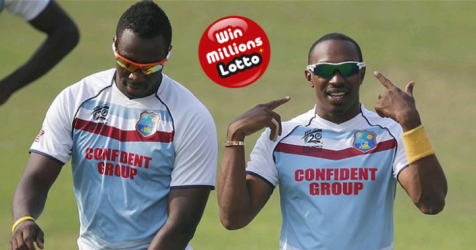 The cricketing superstars kick off Win Millions Lotto's star-studded cast of partners – with fans given the chance to win life-changing money
London, Mumbai: Two West Indian World Cup winners have partnered with Win Millions Lotto to give back to people in need across India after years of starring in the Indian Premier League.
Cricketing legends Dwayne Bravo and Andre Russell will be asking their legions of fans across the globe to play the world's biggest lotteries on Win Millions Lotto through their social media – with the lion's share of the profits going to help Indian charities.
Bravo, the top wicket-taker in IPL history, is now Chennai Super Kings' bowling coach after over a decade of being one of the competition's leading lights, including eight years in Chennai.
The Trinidadian legend, nicknamed 'Sir Champion', has chosen to help the Geo India Foundation through his partnership with Win Millions Lotto. Geo is a Chennai-based charity which brings education, food, housing, public health and a liveable environment to children, youth, women and families in need. Bravo's funding will help them achieve their goals.
Stylish all-rounder Russell, known for being a fan favourite during his career across the international and domestic game, has played a starring role for Kolkata Knight Riders since joining the team in 2014 and joins Bravo in kicking off Win Millions Lotto's mission to help Indian charities.
The man Knight Riders fans affectionately call 'Dre Russ' is batting for Rhapsody Music Foundation – a charity that helps children across South India, using music as a tool for their overall development and learning. Their philosophy of "Education Through Music" is based on scientific findings focused on the relationship between children having access to music and its effect on developing different parts of their brain.
With the pair winning both the 2012 and 2016 ICC World Twenty20 tournaments together, they have now teamed up again to kick off Win Millions Lotto's cast of celebrity partners. Many other global stars across the worlds of sport, film and music are set to join them in generating much-needed funds for their own favourite charities.
Online lotteries are hugely popular across India. Now, fans can contribute to their favourite player's charity by accessing Win Millions Lotto through the social media channels of either Bravo (bit.ly/djbravo47) or Russell (bit.ly/DreRuss12). By purchasing lottery tickets, fans have the chance to win life-changing sums of money while supporting worthy causes.
Commenting on his new partnership with Win Millions Lotto, Bravo said: "I'm delighted to be working with Win Millions Lotto to help a charity that is incredibly close to my heart. People who know me back home know I'm passionate about helping the underprivileged and would love my fans to play Win Millions Lotto through my Instagram page to ensure we can help the Geo India Foundation. I'm also incredibly happy that Andre is joining the project – he's a great friend of mine and it's a delight to reunite with a fellow West Indian legend!"
Russell added: "I always enjoyed sharing a dressing room alongside Dwayne and I'm proud to be reuniting with him. Music is one of my life-long passions and I fully believe in its power to help children across India, so I'm asking all cricket fans to help Rhapsody carry out this vital work by playing Win Millions Lotto through the link on my Instagram."
Win Millions Lotto CEO, Sulim Malook, said: "We are delighted to have Dwayne and Andre as our first two partners for Win Millions Lotto. Charities need funding now more than ever and many stars from around the worlds of sport, music and film are stepping up to do their bit.
Our innovative model means high-profile personalities can use their social media for good. Just by posting, which is something they do regularly, they can encourage their fans to support their favourite charities. Lottery players tend to play their lucky numbers week after week, year after year. For as long as they keep playing, charities will keep benefitting."
About Win Millions Lotto
Win Millions Lotto is operated by UK-based Wilmington Holdings Limited, whose wholly owned subsidiary Ofertas365 (Curaçao) N.V., holds a license to operate in more than 180 countries. Jackpots are fully insured by the world's biggest prize indemnity specialist and based on the outcome of established national lotteries. This unbreakable link gives Win Millions Lotto complete fairness and transparency. For more informatio
n, visit Win Millions Lotto.