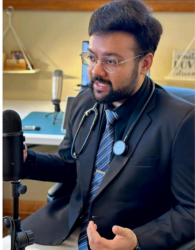 Dr. Apurva Popat, a renowned physician, and educator have been making waves in the medical community with his innovative approach to helping students prepare for the US Medical Licensing Exam (USMLE). His unique teaching style and commitment to student success have made him a popular choice among aspiring doctors who are seeking to pursue their careers in the United States.
Dr. Popat was born in the small town of Veraval near Somnath in Gujarat, India. He completed his high school education in Rajkot and went on to pursue a medical degree from GMERS Medical College in Ahmedabad. Throughout his journey, Dr. Popat experienced first-hand the financial struggles that come with pursuing a medical education. This motivated him to create a USMLE preparation course that was affordable and accessible to students from all backgrounds.
Despite facing numerous challenges along the way, Dr. Popat never lost sight of his passion for medicine and helping others. Throughout his medical school, he excelled academically and developed a reputation as an excellent student. Upon graduation, he embarked on a journey to become one of the best USMLE coaches in the country, driven by his commitment to helping students succeed and overcome the financial barriers that can often prevent them from pursuing their dreams.
In recent years, more and more students have been leaning towards the USMLE due to several reasons. Firstly, the USMLE offers a wider range of specialties and subspecialties, allowing students to choose from a variety of career paths. Secondly, the USMLE is widely recognized and accepted across the United States, providing a gateway for students to practice medicine in the country. Thirdly, the USMLE provides an objective evaluation of a student's medical knowledge, making it easier for medical schools and hospitals to assess the competency of aspiring doctors.
Dr. Popat's contribution to students preparing for the USMLE has been invaluable. He has designed a comprehensive study program that covers all the aspects of the exam, including anatomy, physiology, pharmacology, and biostatistics. His lectures are interactive, engaging, and designed to help students retain the information better. He also provides personalized support and feedback to each student, ensuring that they have a thorough understanding of the material.
"I believe that every student has the potential to succeed, and it's my responsibility to help them achieve their goals," said Dr. Popat. "My goal is to equip students with the knowledge and skills they need to pass the USMLE and build successful careers as physicians."His dedication and commitment to student success have earned him a reputation as one of the best USMLE coaches in the country. Students who have undergone his training have consistently performed well on the USMLE, with many scoring in the top percentile.
In addition to his in-person teachings, Dr. Popat has also made a significant impact in the online medical education community. He is the founder of USMLEStrike, a comprehensive online platform for USMLE preparation. The website features a wealth of resources, including video lectures, practice questions, and study materials. Dr. Popat's YouTube channel, which has over 45,000 subscribers, is also a popular destination for medical students looking to enhance their USMLE knowledge. Furthermore, the USMLEStrike app, which provides an interactive and engaging learning experience, has become the number one choice for students preparing for the USMLE. With these online resources, Dr. Popat is making medical education accessible and convenient for students all over the world.
Today, Dr. Apurva Popat is a resident in Internal Medicine at Marshfield Clinic Health System in Wisconsin, USA. His exceptional performance on the USMLE and expertise in teaching medical subjects have earned him a highly sought-after position at one of the top medical institutions in the United States.