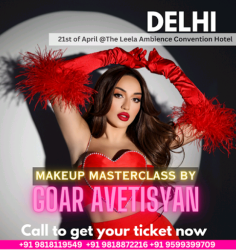 World-renowned makeup artist, Goar Avetisyan (@goar_avetisyan), is set to host a highly anticipated Makeup Masterclass on April 21 in Delhi, India. The event is organized by Dzenius Group and Utourizmo, in collaboration with top beauty experts.
Miss Avetisyan has gained worldwide popularity and recognition for her signature makeup style and stunning transformations. She will be sharing her expert knowledge, techniques, and tips on makeup application during the masterclass, including the latest trends in makeup. Participants will learn about various topics such as flawless base, the art of contouring, highlighting, and creating stunning eye makeup looks. Attendees will also have the opportunity to learn about the latest beauty products and tools.
The Makeup Masterclass promises to be an enriching and exciting experience for all participants, as they will have the opportunity to learn from one of the best in the industry. This event is a must-attend for makeup enthusiasts and professionals who want to take their skills to the next level.
"We are thrilled to have Miss Avetisyan join us for this unmissable opportunity. Her unique approach to makeup application and her expertise will provide attendees with valuable insights and skills," said a spokesperson for Dzenius Group.
To register and book a spot, visit the official website https://www.utourizmo.com/tickets.php or call +91 9818119549, +91 9818872216, or +91 9599399709.
Don't miss this chance to learn from one of the industry's best and elevate your makeup skills to the next level.