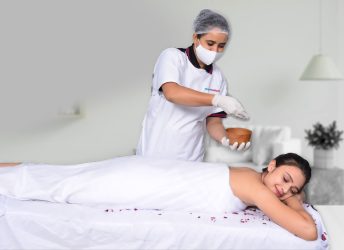 There are countless benefits of visiting a spa. Apart from making you feel rejuvenated and making your skin look more radiant, it also helps you deal with conditions like sleep disorders and extreme fatigue. Today, most people lead very hectic lives and that makes it all the more important for them to engage in a bit of self-care. When it comes to SPA, people crib about visiting one, due to shortage of time as well as spas being too expensive. Yes Madam is a brand that has solved both these problems.
Launched in the year 2017, Yes Madam offers salon and wellness-based services at your doorstep. Through its app or website, you can choose from a variety of spa services, schedule a time as per your convenience and expect the professional to arrive at the scheduled time at your doorstep and offer you high-quality service at a very affordable price. A repeat rate of 75% says everything about the service quality and service professionals' ability.
Talking about the importance of spa services more accessible to people, Mayank Arya, co-founder at Yes Madam, says, "Much before I launched Yes Madam with my brother, I had come across several people in my personal and professional space who would deal with extreme stress and anxiety on a regular basis. If not controlled or curbed in the early stages, high levels of stress can lead to one suffering from severe health-related issues. Investing in physical and mental well-being, I believe, should be a topmost priority for most people today. There are various health benefits of taking a spa and we, at Yes Madam, feel humbled about the fact that we could do something to make them more accessible to people based in different parts of our country."
In a very short span of time, Yes Madam has managed to disrupt the salon and wellness-service space in a positive way and emerged as the leader in this area. From its inception, the objective of the company was to make these services far more accessible and affordable. Since wellness is a necessity, Yes Madam believes everybody should be able to afford it. The SPA services by Yes Madam are currently available in the country's major cities including Delhi-NCR, Bengaluru, and Hyderabad.
"While we make spa-based services available at home, we ensure that no compromises are made in the process. Our highly trained therapists offer you premium-quality services and treatment procedures. Essentials like aroma, natural oils, and music are carried by therapists themselves. We ensure that a spa-like ambiance is created at home without the clients having to pay a premium price for it. We believe that a spa is a necessity and not a luxury and through our services, we want every individual to experience this service while sticking to their schedule and being at home", states Mayank.
Though we are still in the early months of 2023, it has already proved to be a landmark year for Yes Madam. The brand has strengthened its presence and increased its footprint in all the cities it provides its services. It has also taken a few steps ahead in its commitment to empowering female professionals by hiring a large number of women in its workforce. The company has increased its revenue exponentially and emerged as a major success story in the Indian salon and wellness service industry