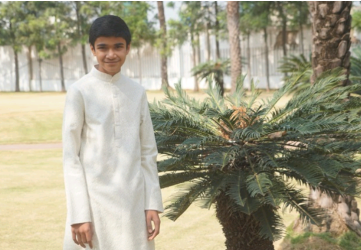 Ayan Dharod (age 13) has designed a 52 week Nature themed calendar with the goal to awaken in us a fast fading connect with Nature and our own roots.
A pressing need: In Ayan's own words, "The pandemic has changed our lives forever… it had forced us into a virtual lockdown that we continue to live in! While we are vaccinated from the virus, we continue to be infected by the artificial digital syndrome! We have an entire world of beauty outside, waiting for us to relish in the delights it has to share! Yet we stay confined in our cocoons, believing that the caterpillar remains, when in reality, the butterfly has already awakened! Nature is all around us, yet we barely spend a few moments in its presence."
Curated insights: The calendar is a set of 52 nature themes. Ayan candidly explains, "I will touch upon 52 natural occurrences found on this planet, that are bound to bring a smile to your face and heart. The haikus give a glimpse into the soul of that pristine beauty, the hand-drawn artworks are a representation of their natural form."
Ayan's Nature Calendar is an elegant and highly accessible table top companion with its surreal brightly colored sketches and the insightful haiku verses urging us to bring more awareness to our surroundings. Each week it helps us focus on a different aspect of nature; covering a dazzling array of natural occurrences from trees and hot springs to forests, mountains and the earth.
This 52 weeks calendar is an endeavor to connect us back to Nature, to pause and re-vitalize ourselves on the path to greater joy and fulfillment in our lives. On sale now at https://serenestrokes.com/calendar/
About Ayan Dharod
Ayan Dharod, has published his first book 'To be or not to be'. He loves to explore and experience the world in all its beauty and splendor. He pursues a wide gamut of creative interests across dance, music, arts and theatre. He is a voracious reader and enjoys all genres of action. He is an active sports person and loves any physical activity. He is passionate about movies, old and new alike. Ayan, studies in Grade 8 at Indus International School Hyderabad, India. He cherishes his family bonding, with parents and grandparents, over meals and board games.
Key link: https://serenestrokes.com/calendar/