Launched in August 2021, 5ire is an entirely new 5th generation blockchain ecosystem. It is a pioneering initiative, being one of the few blockchain ecosystems to focus on sustainable development goals defined by United Nations. With its huge potential, 5ire has attracted investors and partners from across the globe. It is one of the fastest startups to achieve the Unicorn status.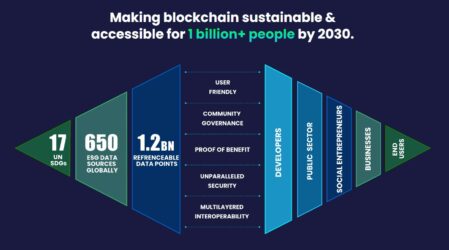 5ire platform includes 5ireChain, which is the first sustainable blockchain in the world. It also has 5ire's venture capital arm named 5ire VC and a dedicated research and development hub named 5ire Labs.
5ire is being preferred, as it is scalable, open-source, decentralized and also comes with integrated ESG ranking and smart contract services. With 5ire, organizations can work to improve their processes in line with United Nations 2030 Agenda for Sustainable Development.
5ire primary mission is to empower and incentivize organizations whose goals are aligned to sustainable development. This will be achieved by providing access to capital to organizations that are compliant with sustainable development methodologies. 5ire will also allow investors to identify and fund projects that are focused on addressing environmental challenges.
History
The idea for 5ire came to the founders when they noticed the lack of blockchain systems that had inbuilt sustainability goals. With the world facing critical challenges such as climate change, it was felt that blockchain can be used as a tool to promote sustainable development.
The founders realized that millions of people can benefit through easy banking and credit, powered by a unique blockchain system that focused on sustainable development. The idea was part of a conversation at a tea shop in Gurgaon, which is now valued at more than a billion dollars.
Funding
5ire has received investments worth $121 million via two rounds of funding. Some of the key investors include Launchpool and SRAM & MRAM. The last funding was in June 2022 worth $100 million. Post that, 5ire valuation crossed the $1 billion mark.
Acquisitions
5ire had acquired Network Capital in September 2022. Network Capital is a student mentorship platform, one of the largest in the world. Based out of London, Network Capital has benefitted more than 1.6 million students and around 150,000 young professionals.
Competitors
5ire competes with other blockchain based platforms such as Ethereum, iExec, Solana and Ankr.
About the founders
5ire was founded by Pratik Gauri, Prateek Dwivedi and Vilma Mattila. Pratik currently serves as the CEO at 5ire. He is a serial entrepreneur, having founded eight companies prior to 5ire.
Co-founder Prateek Dwivedi currently serves as the Chief Product Officer at 5ire. He had earlier co-founded companies like World Web3 Association and Kaching Media. Co-founder Vilma Mattila currently serves as the Head of 5ire Capital. She had earlier worked at Forbes Business Council and founded Un1ty Ventures.