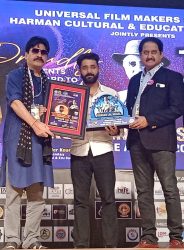 The esteemed International Film Festival of Jammu & Kashmir (IFFJK) recently became a stage for a significant milestone! Accomplished producer, filmmaker, and actor Tariq Khan stood in the spotlight, honored with the distinguished KL Saigal Award, celebrating his substantial contributions to the world of cinema. In a meticulous collaboration between the Universal Film Makers Council (UFMC) and the Harman Cultural & Educational Society (HC&ES), the ceremony took place at the majestic Shri Mata Vaishno Devi Spiritual Growth Center in Katra, Jammu.
As the driving force behind Tariq Khan Productions, Tariq Khan's influence on the world of cinema is undeniable. His inventive storytelling and exceptional filmmaking have enthralled audiences worldwide.
Tariq Khan Productions has cemented a strong position in the entertainment industry, presenting remarkable films such as 'Lihaaf', 'Lines', 'Mantostaan', 'Am I Next', and 'Identity Card'. These movies unfold captivating stories skillfully enacted by accomplished actors like Hina Khan, Farida Jalal, Asmit Patel, Raghubir Yadav, Anushka Sen, Sonal Sehgal, and more.
While accepting the prestigious KL Saigal Award, Tariq Khan exuded heartfelt appreciation to the organizers, UFMC, and HCES for bestowing this distinguished accolade. A heartfelt moment ensued as he dedicated this triumph to the dynamic team at Tariq Khan Productions, whose steadfast dedication and limitless creativity have orchestrated a symphony of cinematic masterpieces.
Internationally acclaimed as a filmmaker and producer, Tariq Khan continuously reshapes the boundaries of filmmaking. His work shines as a constellation of inspiration for budding filmmakers and artists. This award stands as a tangible testament to his steadfast dedication and visionary spirit, propelling him to new heights within the tapestry of cinema. In the midst of the industry's dynamic currents, he remains a guiding star, illuminating the path for others through his extraordinary cinematic journey.
The KL Saigal Award, named after the legendary Indian playback singer and actor Kundan Lal Saigal, stands as a distinguished accolade recognizing exceptional contributions to the realms of music and cinema. Presented to individuals who have significantly enriched the artistic and cultural heritage of the nation, the award echoes the legacy and legacy-shaping influence of Kundan Lal Saigal himself, as exemplified by luminaries like the legendary playback singer Lata Mangeshkar among its distinguished recipients.