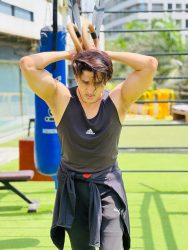 Renowned Indian actor Kabbir is set to mesmerize audiences once again with his exceptional talent as he takes on the lead role in the highly anticipated film "ChidaAtma." Produce by raha films and written by Kabbir himself, this captivating movie promises to be a compelling cinematic experience.
With an illustrious career spanning across successful Bollywood films and notable television serials, Kabbir has established himself as a versatile performer with a dedicated fan base. Known for his ability to bring depth and authenticity to his characters, Kabbir's involvement in "ChidaAtma" ensures a captivating and memorable portrayal of the character Shiva.
Produce by raha films vision combined with Kabbir's inherent talent and powerful screen presence promises to create a thought-provoking narrative that will leave a lasting impact on the audience. Kabbir's extensive experience in both films and television has solidified his position as a sought-after actor, renowned for his versatility and passion for storytelling.
In addition to his acting prowess, Kabbir has also made significant contributions to the theater scene in Mumbai and Delhi. His participation in various plays, such as "Taj Mahal Ka Tender," "Abhinay Se Satay Tak," "The Bank Manager," and "Phandi," has showcased his range and depth as a performer, further enhancing his reputation as a well-rounded artist.
As "ChidaAtma" enters production, anticipation among fans and industry insiders continues to grow, eager to witness Kabbir captivating performance and the compelling narrative crafted by his own writing. With his unparalleled dedication to his craft and his ability to connect with audiences, Kabbir is poised to leave an indelible mark on the entertainment industry for years to come.