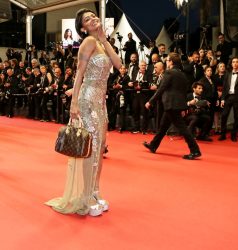 Actress Sakshi Pradhan attended one of the most prestigious global events, the Cannes Film Festival on 15th May 2023 to promote her upcoming Hollywood movie 'MR9'. The trailer of the same was premiered at the event. She chose to wear exquisite and refined jewellery pieces by Archana Aggarwal that matched the actress's vision and guise for her appearance at the 76th annual Cannes Film Festival. The magnificence of the entire ensemble was embellished by the beautiful and regal creativity.
She was looking heavenly and ethereal as she made her debut at the occasion. She was awestruck by the exquisite craftsmanship of the jewellery. Archana Aggarwal's jewellery design, she said, "fitted my ideas. I would like to extend my sincere congrats to her and her team for creating such an incredible look."
These dazzling pieces are a true testament to artistry. The diamonds and polki set in a mesmerizing pattern, exude unparalleled brilliance and radiance, elevating Shakshi Pradhan's red carpet look to a whole new level of luxury and opulence.
"Every piece I make is a style statement. The label is a celebration of today's woman who is feminine yet strong" adds Archana Aggarwal.
Showroom: Ambawatta One, H 5/3-4, Kalka Das Marg, Mehrauli, New Delhi 110030
About Archana Aggarwal
Archana graduated in Gemology and further launched her own label Jewels by Archana. Her unique designs and quality in jewellery have always been her strength and forte. To suit the taste of the consumers she has blended the contemporary artefacts into modern designs with authentic and 100% hallmarked certified Jewellery. Archana Aggarwal fine jewellery is inspired by the rich Indian heritage and is handcrafted to create statement pieces which are traditional and chic. The luxury jewellery represents the fine craftsmanship of our artisans and can be worn on any occasion. The motifs and designs are intricate and delicate and represent expression and culture. Our pieces of art will adorn your soul and speak volume about your exquisite style.
At Archana Aggarwal, we empower women with jewellery that creates an artistic balance between modern and traditional.