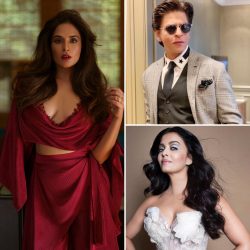 In a momentous event set to take place on the 28th of October in Mumbai, the beautiful and versatile actress Richa Chadha will be honored by the French government and the Counsel General of France to India. At this special occasion, Richa will be conferred with the prestigious 'Chevalier Des Arts et des Lettres,' one of the highest orders given by the French government to artists in the realms of cinema, arts, and fashion worldwide. This honor places her in the esteemed company of legendary personalities like Shah Rukh Khan, Aishwarya Rai Bachchan and Oscar winner Guneet Monga recognizing her outstanding contribution to the cinematic landscape.
Hailing from a modest family of educators, Richa Chadha has carved her unique niche in the entertainment industry on her own terms, consistently defying norms and expectations. She has graced iconic films, collaborating with esteemed filmmakers such as Sanjay Leela Bhansali, Neeraj Ghaywan, Mira Nair, Dibakar Bannerjee and Anurag Kashyap in her decade long career. Richa's filmography boasts internationally acclaimed films, including the Indo-French production 'Masaan,' which clinched two awards at the Cannes Film Festival. Notably, she recently achieved the remarkable feat of delivering a 100 crore film, with Fukrey 3, a milestone often associated with male megastars in the predominantly male-dominated industry. She was also on the jury of the Marrakech Film festival,which was presided upon by the legendary Francis Ford Coppola.
As a producer, her first film 'Girls Will Be girls' is an Indo-French Co-production under the official co-production treaty between the two countries.
Richa Chadha's influence extends beyond the silver screen; she has emerged as a powerful voice advocating for women's rights and upliftment. Her activism goes hand in hand with her actions, as she established her unique lab for Cinema, The Undercurrent Lab, supported by Berlinale and ARRI, which traims women to be gaffers in the film industry. Richa has always been ahead of the curve, pioneering her path by transitioning to OTT platforms. She played a pivotal role in India's first-ever OTT series, Inside Edge, which was nominated for the prestigious International Emmy Awards, showcasing her versatility and adaptability as an artist.
The ceremony, scheduled during the upcoming MAMI film festival, promises to be a celebration of Richa Chadha's remarkable journey, highlighting her significant impact on the global stage.
Reacting to the honour, Richa said, "It is truly an overwhelming and humbling moment for me to be recognized by the French government and the Counsel General of France to India with the prestigious 'Chevalier Des Arts et des Lettres' award. To stand in the esteemed company of legends such as Shah Rukh Khan and Aishwarya Rai Bachchan is a testament to the power of storytelling and the impact cinema can have on bridging cultures and societies. My journey in the film industry has been nothing short of a roller-coaster ride, filled with challenges, triumphs, and invaluable lessons. Receiving this honor is not just a personal achievement; it is a recognition of the collective efforts of everyone who believed in my vision, from my family and friends to my mentors and collaborators. This accolade reaffirms my belief that storytelling knows no boundaries, and it is my responsibility as an artist to contribute meaningfully to the global dialogue. Thank you to the French government and the Counsel General of France to India for this honor, which only motivates me to strive for excellence and make a positive impact on the world through my work."