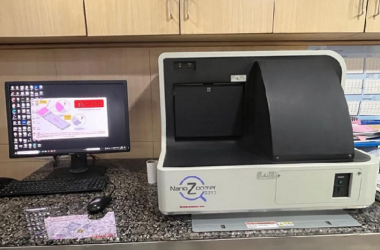 Problem Statement
Rajiv Gandhi Cancer Institute and Research Center (RGCIRC), a project of Indraprastha Cancer Society and Research Centre, a not-for-profit public society, is a medical facility and research institute based in Delhi, specialising in cancer treatment and research. It is one of the largest medical centers for cancer treatment in Asia. RGCIRC uses front-line technology that helps accurate identification of each patient's unique cancer and planning of treatment for the best possible results. It is the first hospital in India to begin robotic surgery for cancer patients, the first hospital to install a true beam for precision radiotherapy and the first hospital to set up a molecular laboratory.
There is a critical shortage of pathologists, which is more pronounced in India. Cancer diagnosis being complex, takes 2-3 weeks for the test results. Even a routine test requires counting of individual cells and taking the ratio of positive (brown) to negative (blue) stained cells.
Although widely touted as a replacement for glass slides and microscopes in pathology, digital slides present major challenges in interoperability, data storage, security, transmission and processing. In the absence of a standardised data format, each vendor defines its own proprietary data formats, analysis tools, viewers and software libraries. This creates issues for interoperability.
Background
Digitization can help in automating repetitive & mundane tasks, thereby reducing the TAT of the pathologist to provide the correct diagnosis. Other advantages with the digitized workflow include the possibility for more active production planning, allowing staff and managers to keep track of how many specimens are there in the system and where in the production chain they are, whether time limits are being kept, etc. Digitized images also eliminate the need to go to the glass archive when looking for a previously prepared slide. In addition, while glass slides can be broken or lost, a digital image can easily be stored and transmitted.
Digitising images unlocks immense collaborative possibilities, as results can be reviewed by other specialists or research institutions in real time, worldwide, improving the time to diagnosis and prognosis. Combining this with AI solutions – facilitates even faster, and more accurate and consistent clinical decisions.
Healthcare Innovation Challenge (HIC), a flagship initiative of MeitY-NASSCOM Center of Excellence – IoT & AI, is aimed at enabling the Digital Transformation of Healthcare. Lying at the convergence of Healthcare, Technology and Impact creation, HIC is focused on increasing operational efficiency, reducing TAT & associated costs and enhancing patient engagement for Healthcare Providers through the adoption of curated Digital Technology solutions. HIC has a unique Use Case focused framework allowing comprehensive evaluation of Digital solutions through Jury Panels comprising Healthcare, Technology & Regulatory experts, to mitigate the risks associated with digital technology adoption. RGCIRC needed a solution that could help reduce the burden on their histopathologists, reduce the TAT for test results and improve the accuracy of diagnosis and therefore RGCIRC nominated this use case under HIC.
Solution Deployed
Qritive AI India Pvt Ltd, led by Dr Aneesh Sathe and Dr Rajasa Jiasaldani, the HIC winner, has an AI-based solution called Pantheon which is a CE marked vendor-agnostic digital pathology platform that enables digitization of the entire pathology lab workflow. It automates the analysis of Whole Slide Scanner images. It produces a rich diagnostic report and has the capabilities for workflow automation and telepathology. Pantheon has the following capabilities:
Computer Vision highlights problem areas and auto-detects visual indicators of disease (e.g. counting the total nuclei or classifying tumor tissue)
Natural Language Processing summarizes patient history for quick reading and analysis
Vendor agnostic whole slide image management system compatible with Hamamatsu, Philips, Leica, Huron and Morphle
Integration with major LIS, EMR and other hospital information systems as well as compatible with PACS systems and DICOM protocol
Data encryption & secure communication protocols
It has AI modules for Lymphoma, Prostate Cancer, Gastric Cancer, Colon Cancer, Breast Cancer and Alpha-thalassemia. The AI modules have 95% sensitivity and specificity based on 5,00,000 test images and 7000 hours of expert annotation.
Impact
Today, it takes weeks for a cancer patient to get lab results. Qritive AI's solution reduces the TAT from a week to a day to produce a report for Prostate Cancer and improves accuracy of diagnosis. Pathologist has to largely focus on verifying the report generated by Pantheon.
Mr J P Dwivedi, CIO, RGCIRC said, "Qritive has enabled our pathology to move towards becoming truly Digital. The tissue images captured onsite go to the cloud storage instantly. These images could be studied anywhere and anytime. Hospitals and labs are full of archives of slides. Just as the films have disappeared from Radiology, we envision the same for these slides in pathology. We have already established a tissue bank where tissues will remain stored. At the next level, these slides will all become digital. The next problem was storing, retrieving and sharing these digital slides. The solution took them all to the cloud where our pathologists can upload these images and share those as desired. The prostate Cancer Module powered by AI is helping to create a template for PDSS (Pathologist Decision Support System) and will segregate benign cases with a high degree of confidence straight saving a lot of time for pathologists. With data being available in real time, several opportunities for advanced analytics are opening up.
CoE has truly been instrumental in bringing several solutions including this one to our notice. Healthcare Innovation Challenges (HICs) are doing a remarkable job of bridging the gap of supply and demand of cutting-edge innovative technologies together."
Dr Gurudutt Gupta, Senior Consultant & Head – Histopathology, RGCIRC said, "This solution has greatly helped us in collaborating with experts where we can seamlessly share the Whole Size Images (WSI) without any inconvenience and with speed. The AI component associated with the solution is going to assist us in increasing throughput and speed of reporting."
Mr Sanjeev Malhotra, CEO, Center of Excellence – IoT & AI said, "At CoE, we're aiming to create an impact by leveraging technology to solve real-world challenges. Supported by MeitY, this initiative has been able to create a collaborative innovation ecosystem consisting of deep-tech startups, Med-Tech Enterprises, Pharma companies and Healthcare providers. Our programs follow a unique use-case focussed framework to drive the digital transformation of the healthcare and life sciences sector. We are immensely proud that Rajiv Gandhi Cancer Institute and Research Center have prioritised the adoption of AI-based pathology workflow automation solution to significantly optimise their histopathology analysis"
Mr Sudhanshu Mittal, Head & Director Technical Solutions, CoE Gurugram said, "The role of AI is growing in all dimensions by reducing the role on human operator, thereby allowing the human operator to focus energies in what is really important. The deployments such as the ones at RGCIRC are the real-life demonstrations of the capabilities of AI especially in a sector as sensitive as healthcare. There are multiple other pilots in pipeline where we expect to demonstrate the capabilities of digital technology in solving long pending problems in different sectors".