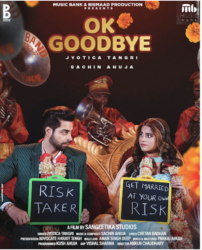 The Punjabi industry sensation Aman Singh Deep is all set to touch the chords of your heart with his new upbeat music video, Ok Goodbye. The rising star, actor, and dreamer, Aman Singh Deep was recently seen in the official music video of the song, Ok Goodbye.
Aman Singh Deep is a popular Indian actor, and winner of the reality show Mr. Punjab, 2015. Aman Singh Deep is a well-known face in the movie industry of Punjab. He was recently seen as the main protagonist in the Punjabi feature film, Ishqaa.
Produced by Music bank & Bismaad Productions, his latest music video, Ok Goodbye is a peppy song with fun beats and lively music. The lyrics of the song set the mood light, and the voice of Jyotika Tangri lends the perfect charm to it. Music and composer, Sachin Ahuja has done an amazing job with the lyrics while Aman Singh Deep as the male lead looks perfect and dapper in the video.
Aman Singh Deep has been a heartthrob in the Punjabi entertainment industry, and this music video is a perfect feather in his cap. His par-excellence acting skills blend beautifully in this video, and you will be left watching it on the loop.
While Aman Singh Deep is portrayed as the "risk taker" in this video, he is being asked to get married at his own risk. The teaser was instantly loved and the song quickly became a hit among music lovers.
Aman Singh Deep exhibits charm and timeless style. His overall personality comes out quite well in the song. The song will make everyone groove as it is fresh and peppy. Known as the rising sensation on the horizon of the Punjabi entertainment industry, Aman Singh Deep has already received quite some accolades for his exceptional work.
"Acting has always been my first love and I feel giving it all when I am on screen. I have worked with many different director-producers and I always try to take my time to understand the script before working on it".
With his persistent efforts, enigmatic energy, and constancy, he is slowly climbing the ladder of accomplishment yet keeping his foot on the ground. He believes in giving his 100% to everything and this is the reason that motivates him to do his best.