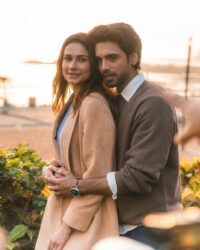 Aneri Vajani's song _Baad Marne ke_ released a couple of days back and the appreciation and love it has received has hit the ceiling.The song also stars Aakash Ahuja opposite Aneri and the chemistry shared between them is glorious! Tweeting about how adorable the two look together in this romantic song, fans have literally flooded the internet with their comments! People applauded their real acting and the way the two made us truly believe in the feelings of the lyrics of the song. Shipping their names together the audiences are rooting for more of their performances.
One user wrote, "This was honestly so heartbreaking you guys were so so good that we felt every emotion Can't stop watching it, Sach mein rula diya" while the others pointed out the small gestures, saying "That lil forehead touch and those smiles. You guys are being adorable!!"Such a heart touching song..Great
performance done by aneri and akash proud of them" sent another fan!
Reacting to the love that she is receiving, Aneri says, "I am so so happy and thankful that everyone loved our song. Aakash and I had so much fun while shooting the song that it did not feel like work at all. I think that's why the chemistry between us is so natural and not forced. He is wonderful to work with and it was a great experience overall. I cannot thank everyone enough for giving us such tremendous support and praise."
Baad MarneKe is, a sad melody that is sung beautifully by Mamta Sharma sends chills down our spine with its sweet and romantic aura.Aneri Vajani looks heavenly in a Christian bridal gown, glowing in the white lace piece! This mesmerizing tale of love and loss has been enacted perfectly by the actors and makes us want to keep seeing the song on loop.